How to wear your poncho in a trendy way ?
How to wear your poncho in a trendy way ?


From its Amerindian roots, the poncho was born in the Andes Mountains a long time ago. It was generally made of wool and served as a weather strip without restricting movement, hence its lack of sleeves. Later, the hippie movement made it a staple of ethnic fashion, and then it made a comeback on the catwalks of high fashion houses. Today, the poncho is a real fashion accessory....

Suitable for all body types, the poncho is a timeless accessory that highlights your presence and adds a touch of elegance thanks to its drooping drape.
Different ways to wear your poncho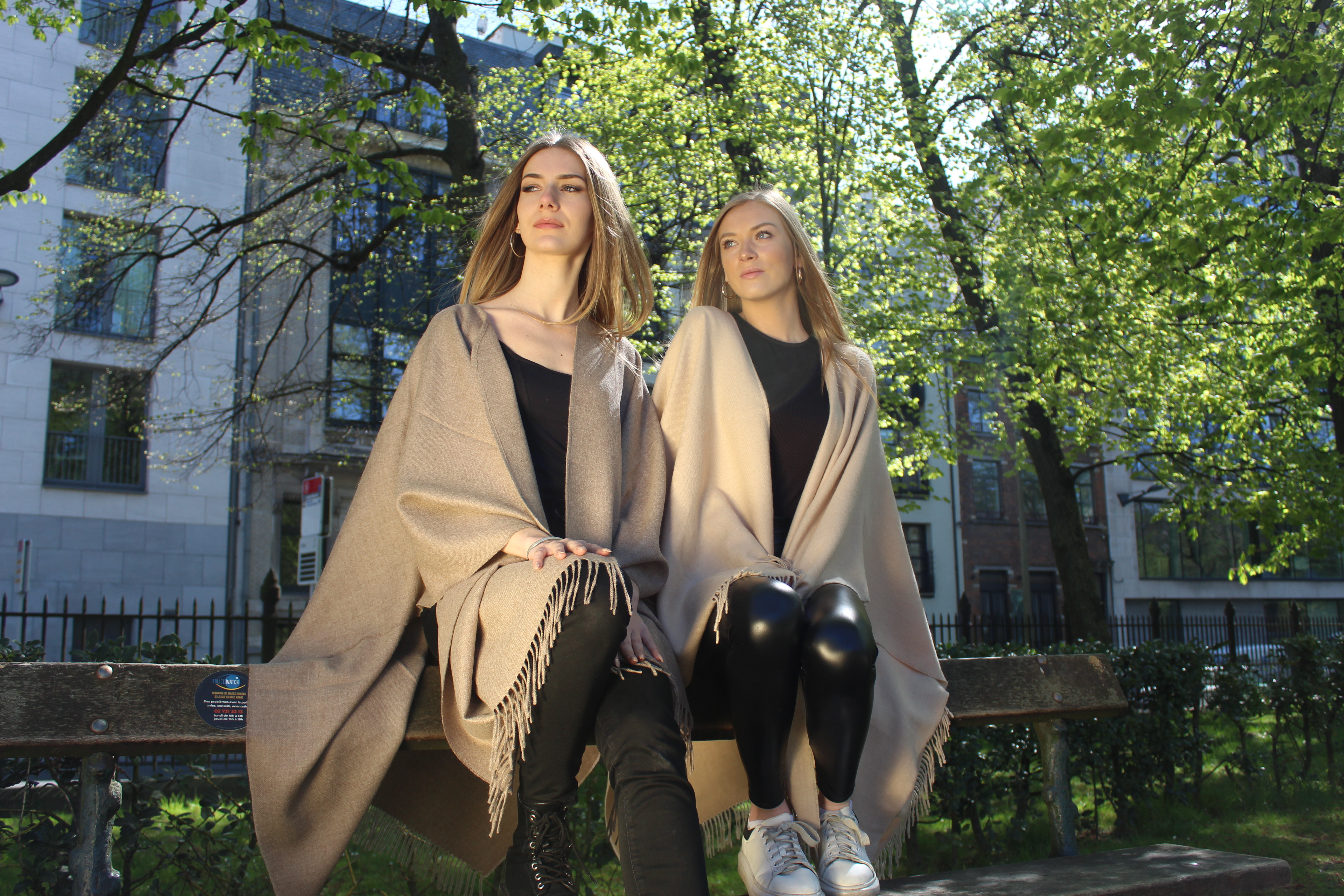 Your poncho can be worn in autumn and spring, in mid-season. For winter, the cape is preferred. It can be short or long and its various colours and materials make it easy to combine with the rest of your wardrobe.

Firstly, you can combine it with a belt in different ways. To enhance your figure, you can simply let your poncho hang down and tie it in the front with a thin or thick belt that is tight around your waist. If you don't necessarily want to show off your waistline, but rather go for a chic look, follow the instructions above by crossing the front panels and then pull your poncho up and over the belt until it is unnoticeable. This creates a totally feminine and elegant drape!

Don't neglect the accessories that will enhance your poncho. For a classy look, opt for a skirt and waders combination. If you prefer trousers, slim leather trousers and boyfriend jeans will go perfectly with the poncho. Wear heeled boots or loafers with them, depending on your style.

For a more formal look, the shirt underneath the poncho will give you a more classic feel. Leave the collar over the top for a preppy effect.

Finally, you can wear your evening dress with your favourite poncho. With tights, pumps and a clutch, you'll be chic and refined.

Since the poncho is a loose garment, it is best to combine it with a close-fitting outfit to compensate for its voluminous effect.

If you're short in stature, choose a poncho that's not too long or thick, as this could constrict your figure. For tall and slender women, you can dare anything!


An alpaca wool poncho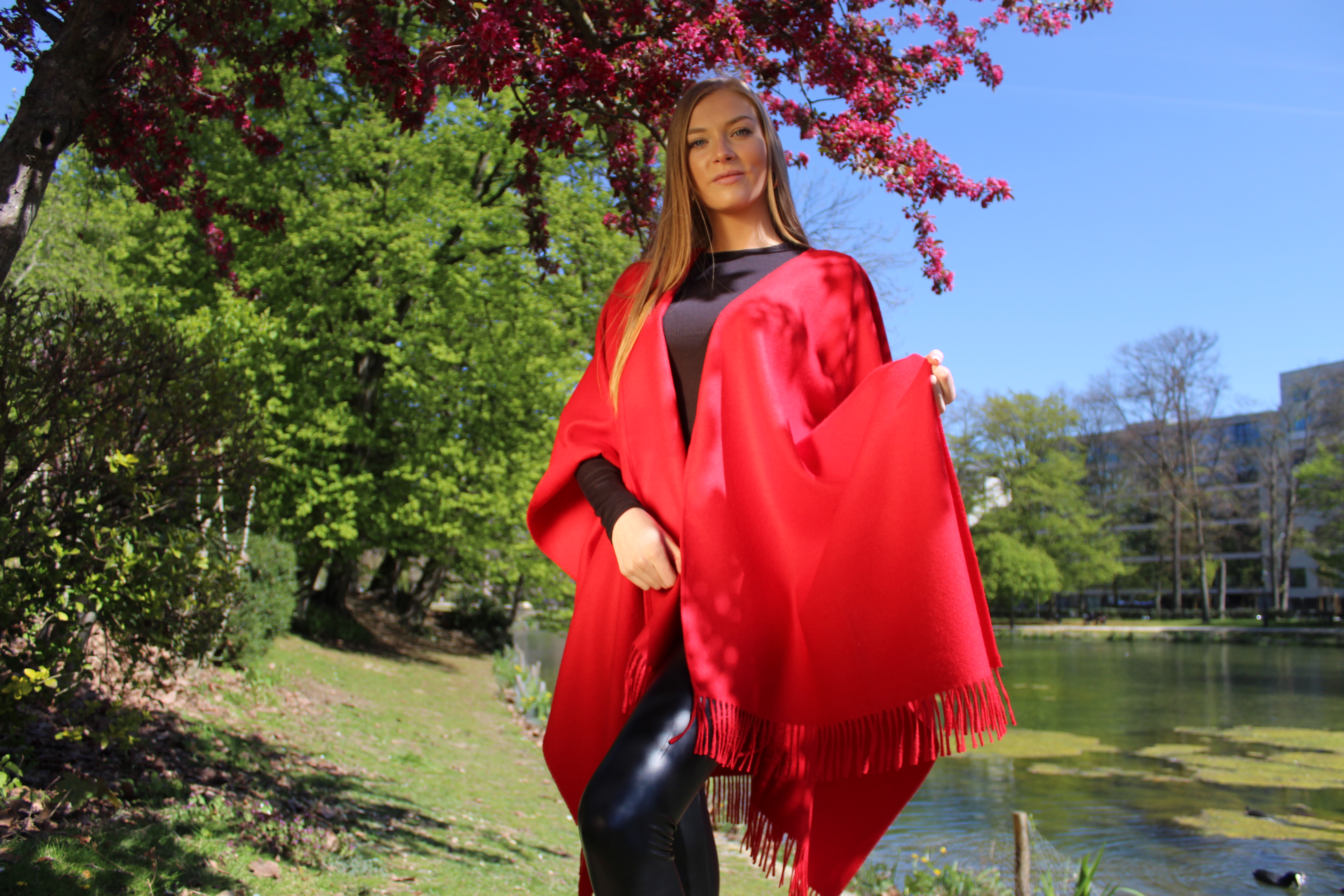 Alpaca wool will bring all its virtues to your poncho. Indeed, its insulating power makes it seven times warmer than sheep's wool and its thermoregulatory properties will keep you at the right temperature in all seasons.

Fine and soft, alpaca wool is incomparably soft, allowing you to wear it next to your skin. Also hypoallergenic thanks to its absence of lanolin, you will not risk allergic reactions such as redness, irritation and itching. So you can feel comfortable in your poncho!

Alpaca wool is also a fairly stretchy and strong wool, about four times as strong as sheep's wool, which makes it long-lasting and pilling-free. Maintenance of ponchos is easy, we recommend hand washing or dry cleaning at a low temperature (between 10 and 20 degrees). It is best to air dry flat so as not to stretch the fibre.

Finally, alpaca wool is the most ecological wool in the world. It comes from the alpaca, an animal with a very small ecological footprint, which emits very few greenhouse gases and requires few resources. In addition, thanks to its nail and pads, it does not damage pastures or tear up the roots of the plants it feeds on, allowing them to grow back faster.


BellePaga ponchos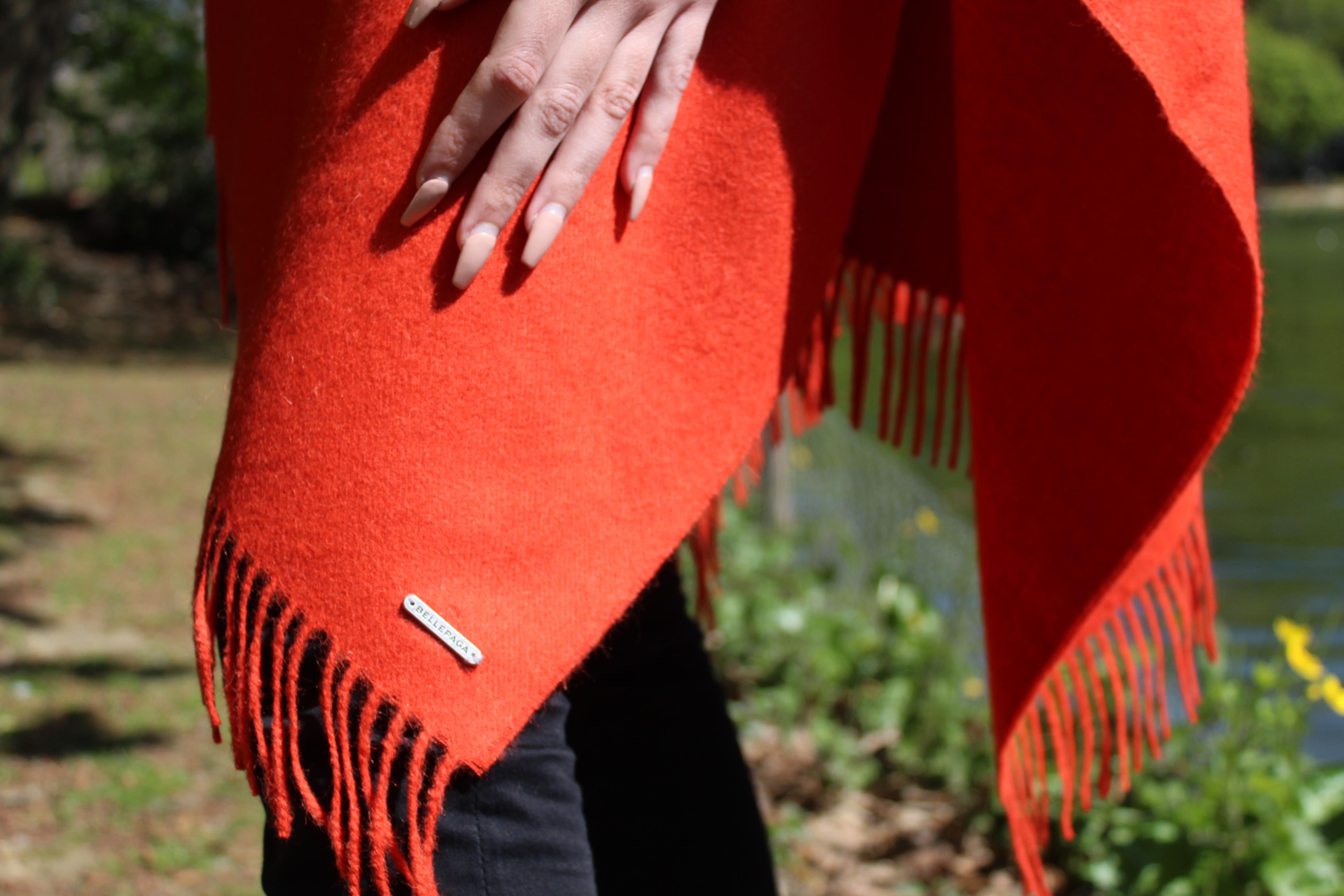 BellePaga ponchos are made from 100% baby alpaca, also known as the "Wool of the Gods". Baby alpaca fibre comes from the first shearing of adult alpacas. It is the finest and softest of all alpaca wool. In the past, during the time of the Incas, it was considered more luxurious than gold.
Our alpaca wool comes from Peruvian alpacas, living in their natural habitat of the Andes Mountains, without enclosures. The king of the country, its respect is assured. It is sheared once a year, in spring, so that its wool can grow back for the winter and its low temperatures.
Concerned about the well-being of our craftsmen, we ensure that they are fairly paid and that their working conditions are respected.
Our ponchos are made of 100% baby alpaca wool and are available in various colours. Its lightness, softness and comfort will accompany you in mid-season and for several years, thanks to its resistance.
Discover quickly our various BellePaga ponchos!We also offer other alpaca wool items for Women, Men and Home on BellePaga.com