Where does my BellePaga item come from?
1. Alpaca breeding in Peru

It all starts in South America, where small camelids called alpacas live. For thousands of years, most alpacas have lived freely in the Andes Mountains, up to 4,880 meters above sea level. They face extreme temperature changes, ranging from -20 to +30°C in a single day, which has led them to develop a fleece made from the most thermoregulatory natural fibers. 

2. Collecting alpaca wool

A crucial step in the production process of your BellePaga item takes place every year between the month of April and June: the collection of the fiber during the spring shearing of the alpacas. Alpacas need to be shorn every year for their health and comfort. Shearing an alpaca produces up to 3 kg of wool, compared to an average of 150 g for a cashmere goat. The harvesting of the fiber is therefore much more environmentally friendly.


3. Sorting and washing the fiber

The fiber selected for our products is Baby Alpaca fiber. It is one of the finest fibers of the alpaca, between 18 and 22 microns, and represents the softest part of the animal. It is harvested and treated on site. Alpaca is the only wool that does not contain lanolin. Therefore, this fiber does not require chemical treatment, bleaching or dyeing. In order to bring you this softness and quality, our products are mostly made from Baby Alpaca fiber.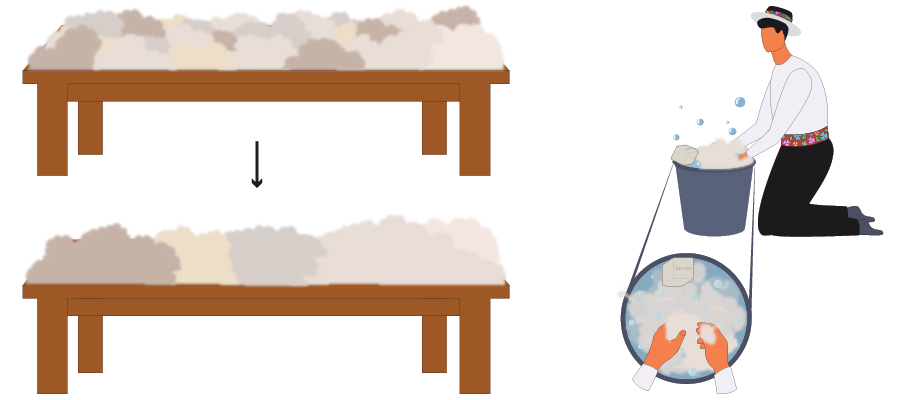 4. Design

Meanwhile, in Brussels, the BellePaga team works on the design and conception of your article. There are several stages in the design process: researching and analyzing current trends, coming up with an elegant and timeless design, receiving prototypes of the item, and then starting production in Peru!


5. Production

We work in collaboration with human-sized workshops composed of Peruvian craftsmen who have a great know-how in weaving this fiber. We ensure the well-being and fair remuneration of each worker involved in the making of our articles.


6. Meeting with local craftsmen and women

The founders of BellePaga, Arnaud and Guillaume, travel to Peru once a year to monitor the quality of your items and the conditions in which the local artisans work. This trip to Peru is also a moment for Arnaud to rediscover the culture of his childhood. Dazzling landscapes, meeting the alpacas of the Andes, contact with the Peruvian weavers and all the local craftsmen who participate in the making of your article: an essential moment in the production process.


7. Transport to Belgium

Once the production of the collection is completed, it is shipped to Brussels. We keep the number of shipments to a minimum and try to use the most ecological means of transport.


8. Reception of the collection

Once the collection is delivered to Brussels, the BellePaga team checks that each item is faithful to the initial prototype: quality, dimensions, colors, shape, composition, etc. If everything is in order, photoshoots are organized in order to promote the item on social media and on our website, but above all to conquer the hearts of the BellePaga community.

9. Selling points

Our collection is then available for sale through our website, our shop in Brussels, our partner shops all over Europe and our various events.

10. Shipping to you

If you place an order on our website, our team will take care of the shipping of your article. We will pack it carefully, send it to your address and make sure it is delivered.

11. Discovering your article

A few days after your order, your article is in your hands, and you get to discover the comfort, softness, and warmth of our Baby Alpaca wool. You are ready to face any situation, winter or summer, your article will accompany you for many years for an incomparable well-being. 

Thanks to this story you can see that the production process of our items belongs to a short, ethical, and sustainable path. BellePaga has chosen to use traditional production techniques and the quality of Peruvian alpaca wool. Your comfort is at the center of our priorities. This is why we pay particular attention to each stage of our production process.