Dinner towards the new year.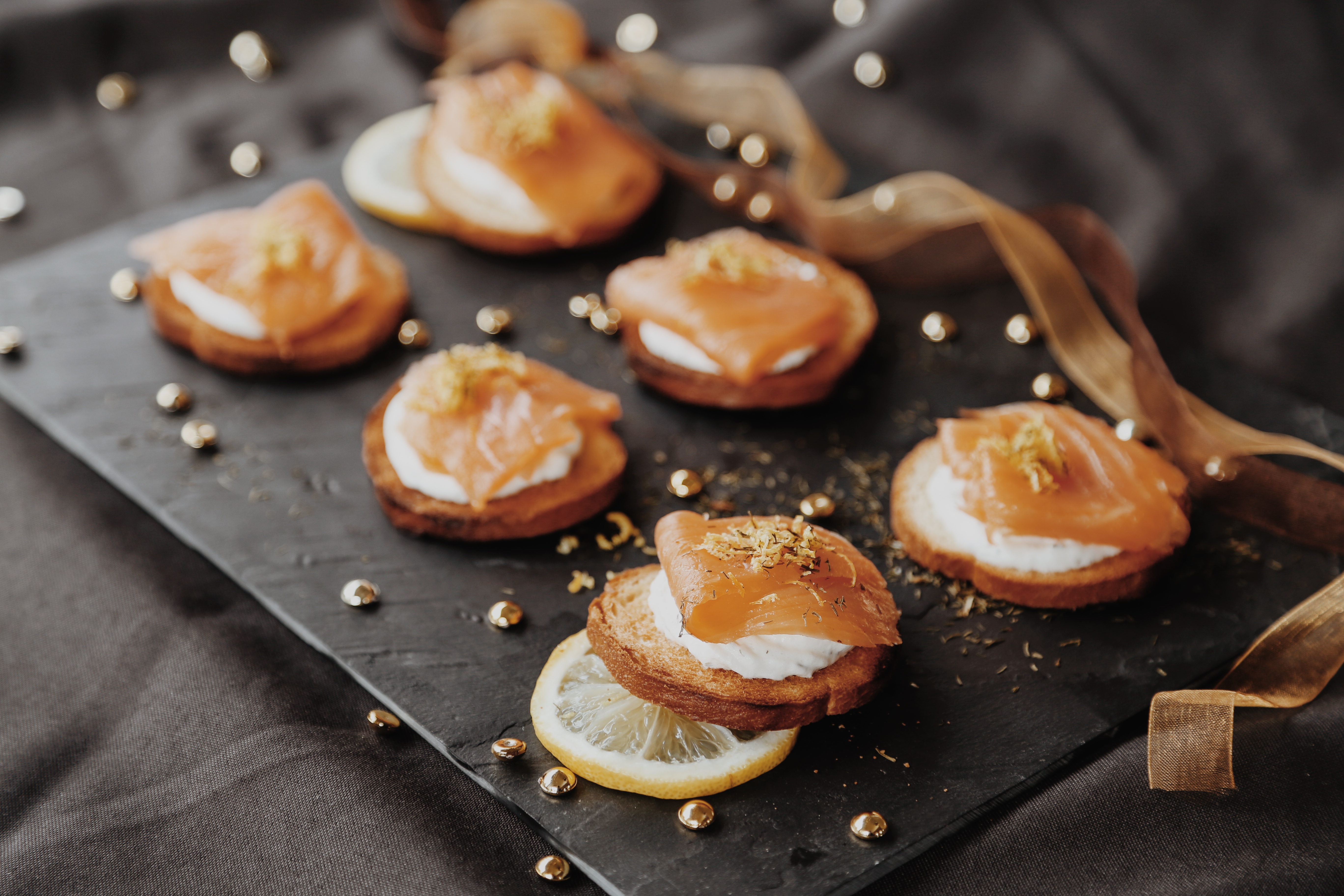 For this last evening of the year 2020, we propose you to taste a dinner aperitif accompanied by champagne for the most festive and music.
To start this evening in small committee, toasts with salmon and cheese will make the unanimity! Simple, but tasty, they are easy and quick to make.

To do so, you will have to provide you with square or round toasts, plain or gingerbread according to your taste.
Slices of smoked salmon of course, as well as garlic and herb cheese. You can also create a variation and add avocado.

To complete your aperitif platter, we have chosen to add foie gras toast, the essential for the festive season! As with salmon toasts, you will need round or square toasts and gingerbread with foie gras and we advise you to add a touch of flavor by proposing fig jam to be placed on top of the foie gras for your guests!

So, to fill your guests' stomachs a little more, hot smoked ham and goat's cheese sandwiches will do the trick. All you have to do is place a slice of Bayonne ham on the bread and a slice of goat cheese. Bake for 10 minutes at 180°C and add a drizzle of honey 30 seconds before the end of cooking.

Finally, the shrimp verrines with tartar sauce will delight your loved ones with their lightness. For 4 persons, you will need :
24 cooked prawns
2 eggs
2 teaspoons of mustard
40 cl of oil
2 teaspoons of vinegar
Pickles
Capers
Chives
Tarragon
Chervil
Salt, pepper

Start by cooking the eggs in a pot of boiling water for 10 minutes. Then scale them and separate the whites from the yolks. Then crush the whites on a plate and put the yolks and mustard in the bowl of a blender and mix. Season with salt and pepper and drizzle in the oil. Then pour in the vinegar and continue to mix.

Then pour the mixture into a salad bowl and cut the gherkins into small pieces. Put the capers and herbs in a chopper and chop. Add these ingredients to the sauce, the egg whites and mix. Finally, place in the fridge for 2 hours.

At the last moment, shell the prawns and prepare your verrines by alternating the prawns and the tartar sauce. Decorate with a few unchopped tarragon leaves and serve.


The dance floor!

Even if the current sanitary restrictions do not allow it, you will still be able to party in your home and dance with the maximum number of people allowed. So get on the dance floor, move the sofas and move the table back, tonight we dance the whole night! If you don't have a disco ball, candles placed a little bit everywhere will offer a softened light and an atmosphere in the dark like in a nightclub! Listen to your oldest playlists to remember your old outings and maybe your youth for some!
A quiet new year.

If you don't feel like dancing, candles are still welcome in your home to spend a quiet evening, chatting and laughing. You can organize little house games, board games or even watch your favorite movies! Well dressed or in pyjamas, stay warm with BellePaga's Alpaca socks, plaids and even slippers!

Find the rest of our articles on www.bellepaga.com.

BellePaga wishes you a happy holiday season. Take care of you and your loved ones!