4 tips to choose your socks
Need a new pair of socks? Before jumping on the first pair, take the time to understand the subtleties of the choice of socks.
Choosing a pair of socks should never be left to chance. And yes, as a visible accessory, the sock must be in harmony with what you are wearing.
Basic rules :
- We avoid sports socks on costumes
- Socks with patterns on tuxedos
- Mid-length socks on shorts and shorts
- And above all, above all, more than any other lack of taste: mismatched socks
Come on, we'll explain everything to you.
Choice of the height of your sock (they all have a name)
There are 4 different heights for socks:
- The invisible sock is the smallest and most discreet. It only covers the lower part of the foot, the part in the shoe. It gives a barefoot style to your outfits, without having the disadvantages of bare feet which can cause blisters.
- The sock is a small sock that stops just below the ankle. It is most often worn in summer, with sneakers or small canvas shoes.
- The modern sock or simply sock is the most worn. It reaches halfway through the calf with a length of about 30 cm. It is visible but very practical and goes with all outfits (not top with a skirt, dress or shorts however)
- The knee-high is the largest and most trendy. It goes below the knee without compressing the calf and without marking the leg with traces of elastic. It is a perfect model with a suit because they will never reveal any part of your calf when you are sitting (for these gentlemen). They are also very trendy with a skirt or dress for ladies.
- The high sock: Schoolgirl style is really trendy, you can wear skirts and dresses even in the middle of winter! Most of the time you can vary your fantasies by using a more flashy color by matching the socks to your scarf and/or hat for example.
The length chosen depends on your tastes and the outfits you will wear them.
Choose a perfect finish

You can recognize a beautiful sock by the quality of the material used and especially by the seams.
The most sensitive point is the "hand remeshing". That is, close the sock at its tip (toes for those who have not had anatomy classes) by means of a seam. In the majority of cases (all industrial socks), the end is machine re-meshed. The downside? It leaves a nasty bead on the end of the sock. And who would want to have a little fabric bead on their toes all day long?! The advantage of hand remeshing is that there is no beading because the seam is perfectly flat and totally imperceptible (a pure pleasure)!
Regarding the quality of the material, the length of the fibres used is very important. What's the point, you might think (Because frankly, if the fibre is 1 or 3 cm long, it makes me feel good) That's precisely the difference. Extra-long" fibres provide better resistance, thus a more solid fabric that is less pilling. So you'll keep your socks on much longer!
If you want to be perfectly comfortable, alpaca socks must be integrated into your closet. More than a pleasure, it is (almost) ecstasy as the softness and comfort are so pleasant (especially in a shoe stiffened by the cold).
Match your socks to your outfits
The unbeatable ones that you are are confronted with an existential question: how to match your socks with your clothes and shoes?
There are several scenarios:
- The classic all in sobriety: Black, anthracite or navy blue. Even if you don't wear any black clothing, you will take this color for your socks, to match them to your beautiful varnished shoes, for example. Completely fused in the outfit, they will be almost invisible to enhance the superb glazed leather of his derbies, or the magnificent flannel of your pleated pants.
- Elegance yes, but with one detail: You like what is refined, but without overdoing it. No way for you to neglect your socks: they are above all accessories. Then choose beautiful plain colours, and your pants will reveal a sock that will be appreciated. For example, navy blue pants combined with satin shoes of the same colour and pretty green socks will enhance your outfit.
o There is however a small rule for agreements, they must be discreet:
Either by subtly recalling a colour present in your outfit (the brown of a belt, the green of a pocket / tie...)
Either by using a neutral shade (burgundy socks, purple...) but original, which will enhance your look.
- Bold ardour: Cardinal red, mustard yellow, raspberry violet... A spirited personality does not shy away from anything and makes his socks an accessory that you must absolutely notice, it's like your signature.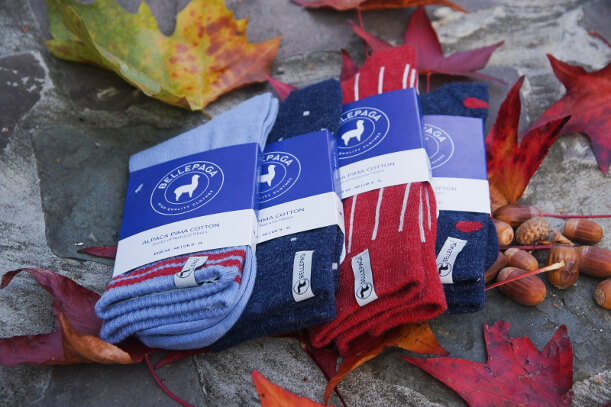 Some little maintenance tips
Alpaca socks are resistant but, like all natural products, they must comply with a few simple rules.
For washing, machine wash at 30° is fine. Avoid the tumble dryer, however, which mistreats fibres. Of course, any ironing is to be avoided, let them dry flat (they will keep their shape perfectly).
And to remove difficult tasks? (We have it all planned)
- Earth: Wait until the stain is dry. With a soft brush, rub your socks. Possibly dab the stain with vinegar or soapy water. Then wash your socks normally.
- Grass: Have you played (a little too much) with your children in the garden? And Hop, you stained your pair of socks. To remove it, simply use soapy water and rinse with warm water. Then wash your socks normally.
- Waxing: To remove the stain, we recommend that you use absorbent paper. Then wash your socks normally.


Discover our wide choice of ultra comfortable socks for men and women and start now to enjoy the virtues of alpaca!