Large Scarf Woman
Large women's scarves
 are becoming more and more fashionable! They are the accessories you must have in your wardrobe! They are timeless and can be worn for many years and have been worn for many years! We can wear them in a thousand and one different ways, allowing us to make several looks with the same scarf. Isn't it great? We can find them with all kinds of different patterns, there is something for everyone. The most classic and the most original among you will surely find what you are looking for!
We can wear them when it's colder but also to
enhance a look
and
give pep
to our outfits!
But of course you have to choose
THE right material
for our large scarves! So why not
Alpaca wool
? BellePaga's large women's scarves have a lot of advantages! Discover them in this article!
 LARGE SCARF FOR WOMEN IN ALPACA WOOL                                             
Alpaca wool is THE
trendy material
to choose for your scarves! Here we tell you about BellePaga which is THE reference in Alpaca fiber clothing! This wool has
thermo-regulating properties
that will allow your scarves to keep your neck warm. This by letting it breathe and avoiding perspiration.
To be precise, there are
two categories
in Alpaca fiber: Alpaca fiber and
Baby Alpaca
 fiber. This one does not come from the baby animal, but from the first shearing of the adult animal. It is
finer
and is
very silky
,
soft
and
shiny
. It is very rare and is considered to be the most prestigious fibre in the world. It is a high-end fibre that will add a touch of luxury to your look.
In addition, Alpaca fiber
does not contain lanolin
, which is ideal for the most sensitive people. Its
hypoallergenic properties
are therefore a real asset! You will be able to wear your scarf without it scratching you for a single second! Secondly, Alpaca wool is
very resistant
and
hardly pills
. Thanks to this, your large scarves will have a longer lifespan.
BellePaga scarves are made by Peruvian craftsmen who have an
unequalled know-how
. This will add a unique touch to your outfits! These scarves are made in accordance with BellePaga's
values
: local production, respect for animals and the environment, perfectionism. 
OVERSIZE SCARF WOMEN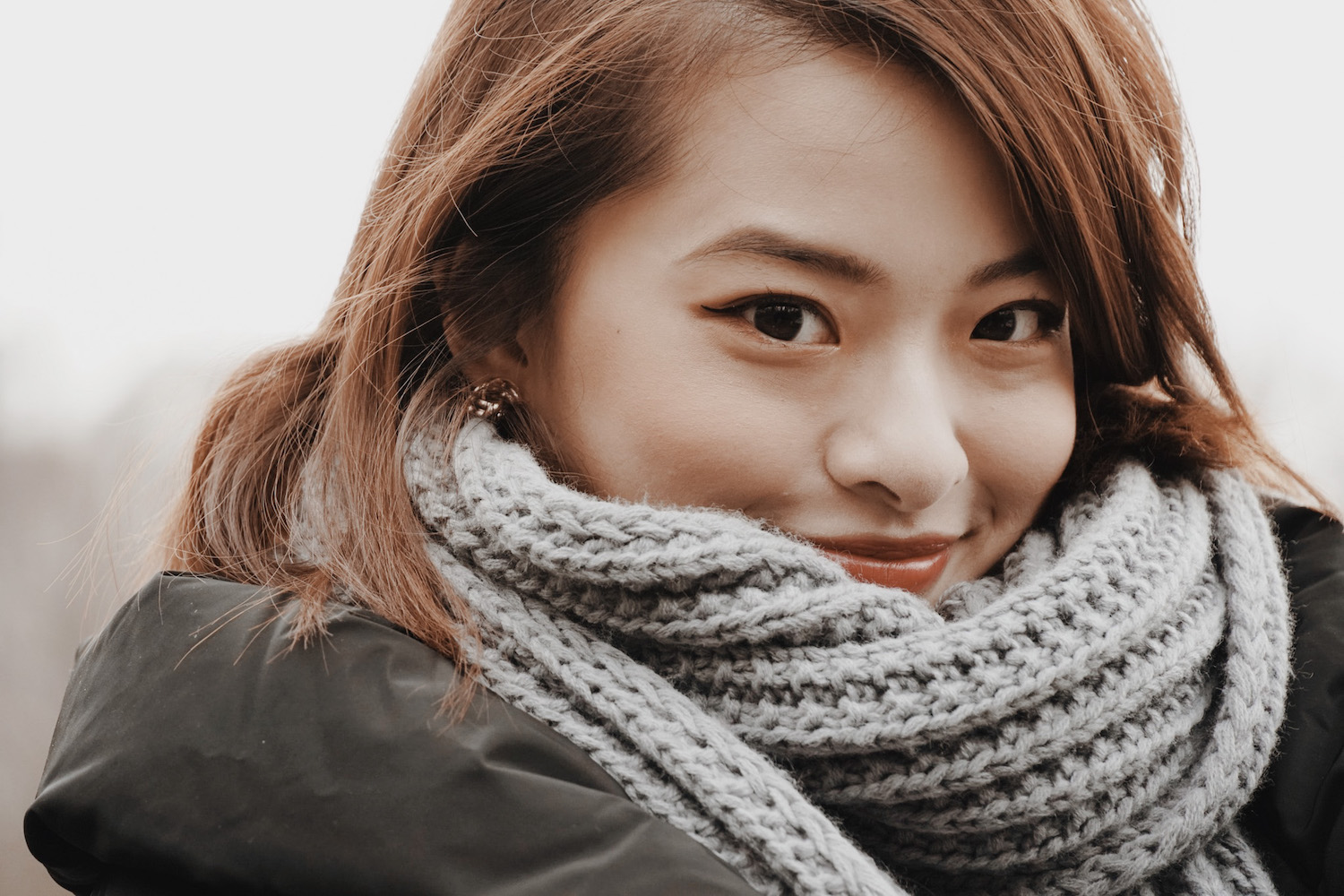 We can equate large scarves with oversized scarves. The question that often comes up is: But
how do we wear these scarves
?
Did you know that there are more than 30 different knottings? Here are some of them:
The concentrated material around the neck: This way of knotting the scarf is nice because you will have a concentrate of colours close to your face and it is a modern, casual but stylish knot. To do this, put your large scarf around your neck and tie both ends. Then wrap it around your neck. 
Draping: this consists of leaving one side at the level of your bust and putting the other on your shoulder, while wrapping it around your neck and leaving the other side hanging down your back. This knotting is more chic and is quite often found at formal parties. 
The Half Tied knot : this method is beautiful. It highlights the print of your large scarf and protects your neck from the cold. The knot represents a braid and is therefore associated with femininity. Perfect for an oversized scarf for women! 
It is also possible to wear them in a different way than as a scarf. You can also divert your large scarf to use it as a garment. All it takes is a little patience and concentration. Style is that too:
recycle and use your clothes differently
! BellePaga fully adheres to this idea! Here are a few ways:
In skirt: It is possible to make a nice draped skirt from a large scarf. To do so, choose a smooth knit. This allows you to take pride in having created a "do it yourself". 
Top: You can wear your large scarf as a poncho. It should be worn so that it covers the shoulders and extends to the elbows. With a small belt it will be perfect! 
HOW TO CHOOSE YOUR LARGE SCARF ACCORDING TO YOUR SKIN TONE?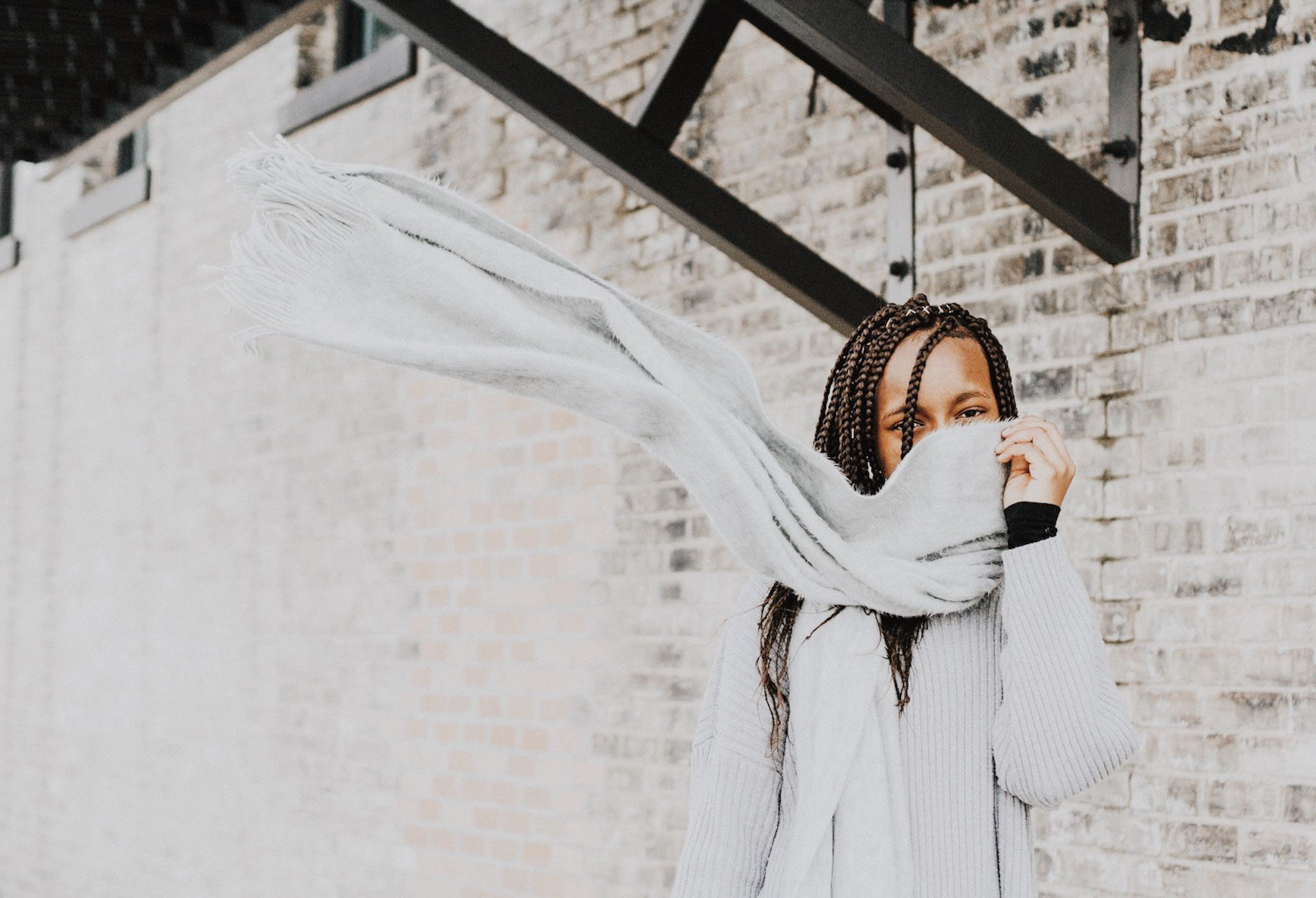 To have a perfect look, the choice of colours for your large scarves must be made
according to your complexion
.
Pale complexion and light eyes: large grey, green, pale blue, purple and dark red scarves are to be preferred while yellow, orange and beige are to be avoided. 
Light-skinned brunettes: intense blue, red and black are perfect for you. Pastel colours such as white and beige should be avoided. 
Dull skins and light eyes: large green, brown, orange and red scarves are ideal, but burgundy, white and navy blue are to be avoided. 
Dull-skinned browns: pink, green, orange and navy blue are to be preferred, while yellow and beige are to be avoided. 
Large, wild and floral printed scarves give a touch of glamour to your outfits and perfectly illuminate your complexion. Choose them with patterns that you like so that you don't get bored.
You now have all the information you need to
choose the perfect large scarves
for women. Choose Alpaca wool from BellePaga! It will give you softness, warmth and style. While being in accordance with fundamental values! There is a wide assortment of patterns and colours! You are sure to find what you are looking for.
BellePaga
, the Brussels brand that can be found on
www.bellepaga.com
, offers you baby alpaca wool scarves that give you a feeling of comfort and softness like you've never felt before.
Baby alpaca wool offers a maximum of softness and warmth.
It is known internationally and presented as the finest and most luxurious wool in the world. It has many virtues such as resistance (4 times more resistant than sheep), softness, warmth (7 times warmer than sheep wool), waterproofing and it is a hypoallergenic fiber.
In short, "Baby Alpaca" corresponds to the fiber of Alpaca which is between 18 and 22 microns. It is a very fine fiber that represents the softest part of the Alpaca's hair. Moreover, alpaca fiber does not require chemical treatment, bleaching or dyeing and has many ecological virtues.
BellePaga offers different models of women's scarves that will help you face the cold winters. There is something for everyone! Something to keep you warm all winter long!
The beginning of a long story...
BellePaga is the story of two young Belgian friends, one of whom grew up in Bolivia among these beautiful landscapes and animals. Alpaca wool, also known as the wool of the gods, has exceptional virtues that are too little known on our continent, yet are very precious for the most sensitive and cold among us.
This is why they decided to launch together their brand of natural, comfortable and elegant clothing and accessories made of Alpaca wool for women, men and the home.
It is a new brand that finds the perfect balance between comfort, warmth and elegance, with a modern and pure style that is a soft mix between natural and urban. It is also a brand with strong values related to nature, fair trade and sustainable development.
The Alpaca is a cousin of the Llama which lives on the very high plateaus of the Andes, in South America, at more than 4000m of altitude. This animal produces a fine and silky wool with exceptional virtues. Indeed, it is extremely comfortable because of its softness, lightness and unequalled warmth.
Discover all our baby alpaca wool scarves from BellePaga, which will keep you warm all winter long, on the website
www.bellepaga.com
 !