KNITTED SCARVES

Two knitting needles, some nice balls of wool, a good pattern, and a delicious tea, just like that you're ready to
knit your scarf ! 
The trend this winter to be on the cutting edge of fashion is to accessorize your outfit with a big knitted scarf. All the more so when knitting has gone from being an activity for grandma to a very trendy hobby. So what could be better than
making your own knitted scarf
?
In autumn, winter, or when it's cool, the knitted scarf is our best friend to keep us warm. We like it soft, fluffy and thick, but nowadays, it is more and more complicated to find a nice quality knitted scarf in a shop. Making a knitted scarf takes time, but it's also a
good and easy activity
to keep busy on those long winter evenings by the fireplace.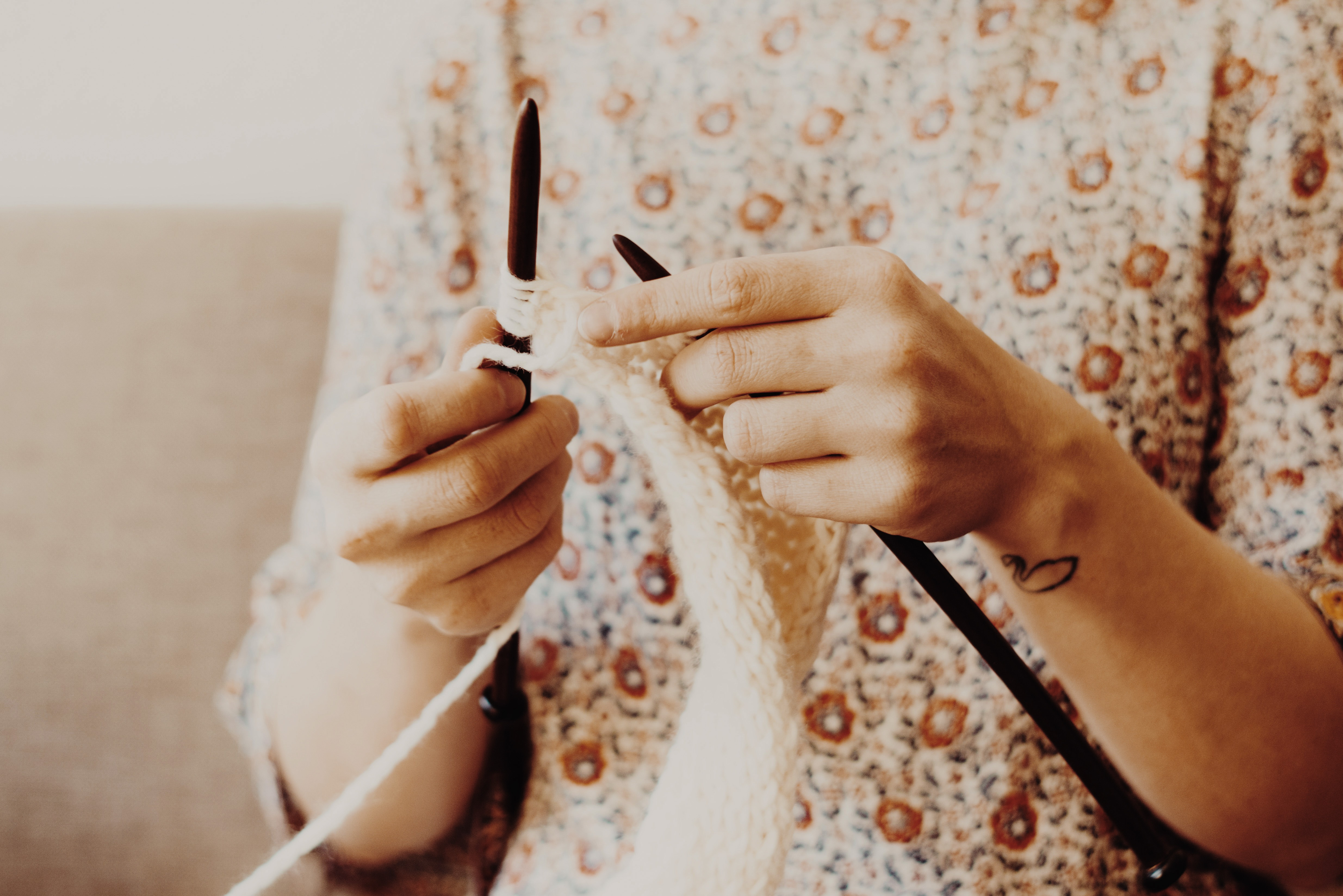 The knitting trend

When we talk about knitting, we all have in mind this image of our grandmothers sitting in their old armchairs knitting a sweater in front of Little House on the Prairie. You know that famous itchy orange sweater that we only wear when we visit her on Sundays to please her. But those days are over! Knitting has become increasingly popular in recent years and is now one of the most trendy activities!




Knit and relax!
Making your knitted scarf will be a great way to relax, to refocus, to be zen. When you have a busy life, where you stop running from right to left, knitting is a great way to clear your head, it's taking your time, not losing it. Take the time to choose your pattern, pattern, wools, and colors either by going to your favorite store or even on the internet. It is not necessarily necessary to knit for hours, the benefits of knitting can be active by assembling a few rows of your knitted scarf between two subway stations or in the doctor's waiting room. It has been proven that the regular rhythm of the needles, the concentration, the sound of the wool rubbing make knitting a Zen activity, ideal for relaxing and enjoying without moderation.






Everywhere and all the time
Thanks to its convenient carry-on format, knitting is ideal for keeping the mind busy on any occasion. To stop snacking in front of the TV, to stop smoking, to avoid biting your nails, by concentrating on your knitted scarf, you won't even think about those nasty habits anymore! Gone are the days when you would get stuck in front of your phone in the subway, in the waiting room, take out your knitted scarf, make a few rows, and time will immediately seem to go by faster!






Knitting to be fashionable
Today knitting has become one of the most unsgrammable activities. What could be better than creating your own pieces? Gone are the hours spent on the internet to find THE knitted scarf that will make your girlfriends green with envy! Bring your needles and pretty balls of wool to create a unique and original piece! So let your imagination run wild and get started!

Choosing the right wool


The choice of wool is essential to obtain a beautiful knitted scarf. For beginners, opt for thick wool to quickly see the progress of the scarf but also to correct its mistakes more easily. There is a multitude of wools available in terms of colour, quality, length... Here are a few tips to help you see more clearly in order to choose the best ball for your knitted scarf.



Wool? Késaco?
Not surprisingly, wool is a fibre traditionally obtained from the shearing of animals such as sheep, goats, and even alpacas and llamas. After shearing the animal, its fur is treated to untangle it, clean it, and deodorize it. It is then slivered, dyed, and rolled up to form balls of wool. Today, there are also vegetable and synthetic wools, which are cheaper but of low quality and resistant. There are wools made of polyamide, cotton, or silk.

Animal wools
Goat's or sheep's wools are very good quality and warm fibres. However, they have a tendency to pill, which is never pleasant and gives a neglected side to the outfit. So, to keep and preserve your knitted scarf over time, choose wools that are not fluffy, like alpaca!

Alpaca wool is ideal for making a beautiful knitted scarf! Indeed, this fibre stands out thanks to its insulating power, seven times superior to sheep wool. It will also bring an unequalled softness to your knitted scarf that you won't want to let go. Finally, alpaca wool is very light, respects sensitive skin, and does not pill, which will allow you to keep your knitted scarf in very good condition for years and to maintain it easily.



Vegetable and synthetic wools
Among vegetable wools, cotton is ideal for beginners. Easy to knit and wash but also very comfortable, it is a perfect vegetable fibre for a knitted scarf. Concerning synthetic wools, there is no lack of choice between polyamide, acrylic, microfibre, lurex, nylon, polyester, and so on! Pleasant to knit and of good quality, synthetic fibres are also very affordable. The only black spot on the board is that they can itch... So it's wool to avoid for a knitted scarf or clothes in contact with the skin.

Choosing your pattern


To start your knitting scarf when you are a beginner, it is important to choose a
simple pattern
so that you don't get discouraged by starting a project that is too complicated. The basic rectangular scarf does not need a pattern, choose freely the number of stitches and the type of stitch to obtain a more or less thick scarf. Knit, and once you have obtained the desired length, stop.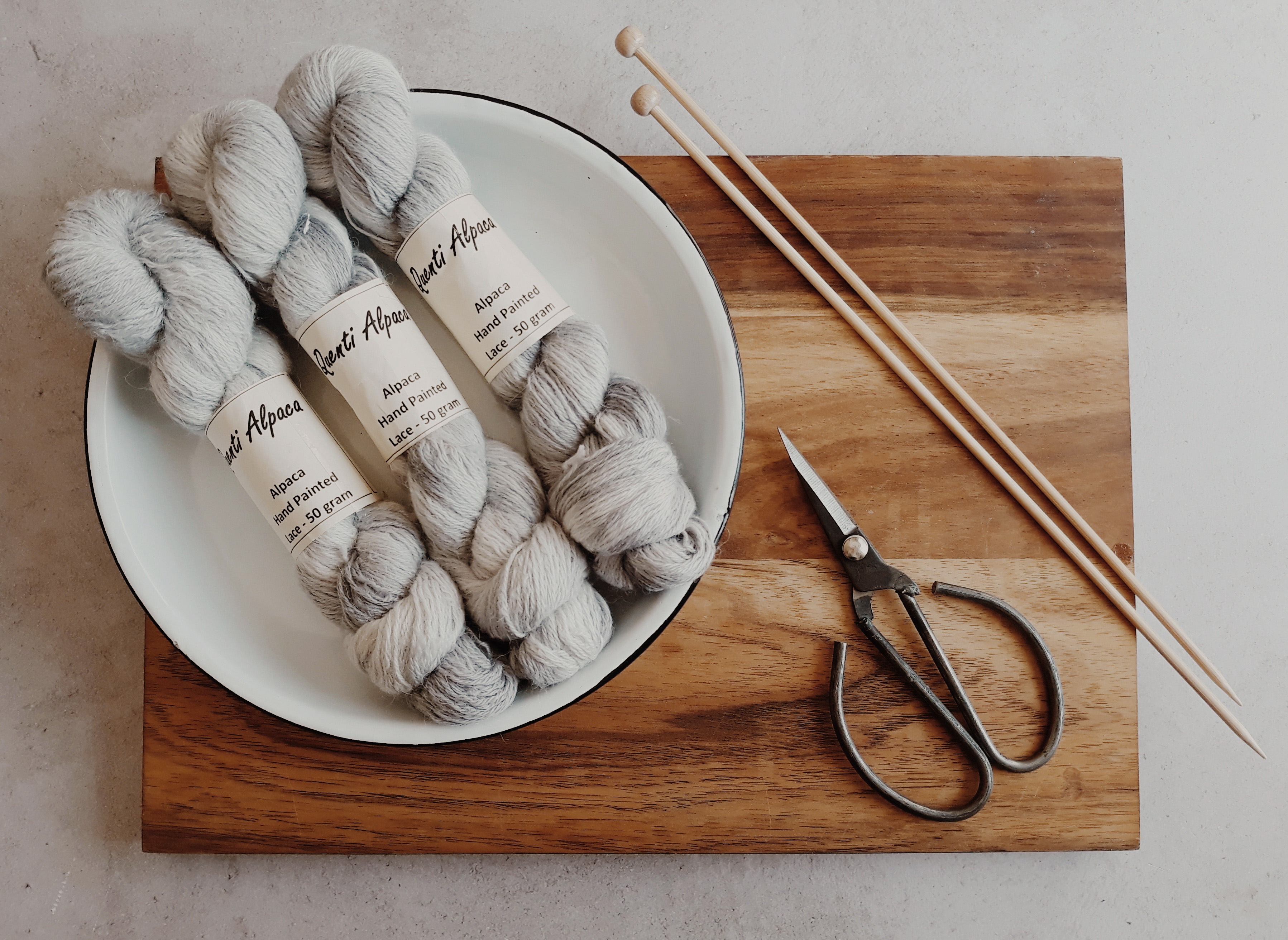 Which needles to choose?


To start your knitted scarf, it is essential to have good needles. But you will quickly notice that there is a multitude of needles, which will leave us perplexed in front of so many choices... But don't panic, we will help you to see more clearly!



The size
Depending on the work to be carried out or your level, the size of the needles may vary. To make a success of your knitted scarf, it is essential to have good comfort, handling your needles without injuring or tiring you. Generally, the average size of a knitting needle is 40 cm, but they can also vary between 20 or 60 cm in length. It is important to know that the longer a needle is, the more difficult it is to use. A little tip for a beginner: the perfect needle size is the length between the armpit and the wrist.

The diameter
Although the length of the needles is important, so is the diameter. If you have succumbed to the charms of knitting, you may have noticed that the needles are numbered. These numbers refer to the diameter of the needle expressed in millimetres. So the larger the diameter, the looser your stitches will be. When choosing the needle diameter, it is important to take into account the type of wool you have chosen, as not all fibres can withstand the same tension.

Now that you have all our tricks, go ahead and make a unique and original knitted scarf to make you jealous !

Also discover our alpaca fibre scarves to inspire your models!