Wool sock
Wool socks are not always the consumer's first choice, yet they offer many more benefits than you might think. While cotton socks are generally cheap, they also have a whole range of disadvantages. Acting like sponges, cotton socks are more prone to perspiration and therefore more prone to unpleasant odours.  In winter, this increased perspiration will tend to reinforce the feeling of cold. Although wool socks are often more expensive, they are also a material that is generally more suitable for quality socks. 



Wool absorbs moisture 
Wool socks are often appreciated for their more absorbent side. As wool is a breathable material, it regulates the moisture often produced by the feet much better. This means that your feet will stay dry all day long. 



OK, but wool is for winter!? 
Well no, not necessarily. One of the advantages of wool is that it has a strong insulating power, which protects our feet from the cold in winter... and from the heat in summer! 



Stabilize the temperature thanks to wool socks 
Wool is a real temperature regulator. Indeed, it will allow the feet not to get too hot in the summer, and on the contrary, to stay warm during the winter. During the cold season, we often tend to want to multiply layers, and this is sometimes also true for socks. However, this is far from being the best solution, because, with too many layers of socks inside your shoes, you generally find yourself very tight, which is very bad for your blood circulation. It is, therefore, better to choose a good pair of very warm woolen socks, rather than several cotton or synthetic ones. 
Even during a more intense effort, such as a sports session, wool socks, thanks to their absorbent fibres, will continue to regulate the temperature of your feet while keeping them dry. 



Choosing wool socks means saying goodbye to unpleasant odours
You may have been told that your feet smell like cheese. There's no shame in that, many of us do. However, there are ways to reduce or even eliminate these unpleasant smells. Indeed, as explained earlier, woolen socks help to keep feet at a stable temperature. The micro-organisms responsible for the odours will no longer have the opportunity to develop, and you will now be able to take off your shoes without any discomfort! 



Wool socks are more ethical!
Let's go back to our cotton sock. Like the majority of cotton clothing produced in the world, most cotton socks are often produced in workshops that have little respect for the people who work there and their rights. So they cost less, but when you know that others pay the real price, it makes you think twice. 
Of course, wool is not left out either. But fortunately, there are more and more sectors producing and washing this material in a much more ethical way.  



Other advantages
For hikers, mountaineers, skiers, and other sports enthusiasts, the wool sock is also the most suitable, as it absorbs some of the shocks likely to be encountered. Cotton, which humidifies much more easily, will, therefore, lose all its insulation and will no longer represent any protection for your feet. 
Secondly, wool is an antibacterial material, which means that it does not necessarily need to be washed after each use. Very practical for hikers who are leaving for several days.  
In addition, we can also mention that, although more expensive, woolen socks are certainly an excellent investment since they will last much better over time. 



Wool, does it scratch?
The days when wool was synonymous with tingling are over. Certainly, there are still some inferior sweaters that make us want to scratch all day long. But today there are certain types of wool that have the advantage of being extremely soft. Alpaca wool is the best example. 



How to clean them?
As far as cleaning is concerned, most woolen socks can generally be washed at 30° in the washing machine. Some types of wool can even be washed up to 60°. In order to keep them even longer, you can also wash them by hand. The best thing to do before washing your socks for the first time is to read the washing instructions provided by the brand. 
After washing, it is advisable to hang the woolen socks to dry, rather than putting them in the tumble dryer. This will keep them in better condition for longer. 



What about alpaca wool?
Alpaca wool is undoubtedly the best of all (objectively of course!). Indeed, 7 times warmer than traditional sheep's wool, alpaca wool is also more insulating and much softer. If you are afraid of tingling, this is without hesitation the wool you need. Then, just like traditional wool, alpaca wool is also ideal for limiting humidity. 
Last but not least, if you are allergic to traditional wool, alpaca wool is certainly your solution! Indeed, as this particular wool does not contain "lanolin" - also known as wool wax - there is no risk of skin irritation.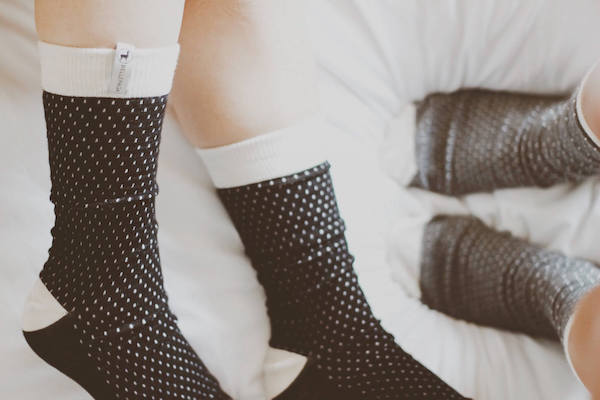 In short, wool socks are ideal for both sports and normal days. At BellePaga, comfort is one of our priorites. Our alpaca wool socks are of exceptional quality. As we explained earlier, alpaca wool retains heat much better than conventional wool and is also extremely soft.  
Don't hesitate any longer and discover our wide selection of high-quality socks.


Wool socks from BellePaga
BellePaga, the Brussels brand that can be found on www.bellepaga.com, offers you baby alpaca wool socks that bring you a feeling of comfort and softness like you've never felt before.
Baby alpaca wool offers a maximum of softness and warmth.
It is known internationally and presented as the finest and most luxurious wool in the world. It has many virtues such as resistance (4 times more resistant than sheep), softness, warmth (7 times warmer than sheep wool), waterproofing and it is a hypoallergenic fiber.

In short, "Baby Alpaca" corresponds to the fiber of Alpaca which is between 18 and 22 microns. It is a very fine fiber that represents the softest part of the Alpaca's hair. Moreover, alpaca fiber does not require chemical treatment, bleaching or dyeing and has many ecological virtues.

BellePaga offers different models of socks for women that will help you face the cold winters. There is something for everyone! Ankle or mid-calf socks, as well as knee-high socks to keep you warm!

The beginning of a long story...
BellePaga is the story of two young Belgian friends, one of whom grew up in Bolivia among these beautiful landscapes and animals. Alpaca wool, also known as the wool of the gods, has exceptional virtues that are too little known on our continent, yet are very precious for the most sensitive and cold among us.
This is why they decided to launch together their brand of natural, comfortable and elegant clothing and accessories made of Alpaca wool for women, men and the home.

It is a new brand that finds the perfect balance between comfort, warmth and elegance, with a modern and pure style that is a soft mix between natural and urban. It is also a brand with strong values related to nature, fair trade and sustainable development.

The Alpaca is a cousin of the Llama which lives on the very high plateaus of the Andes, in South America, at more than 4000m of altitude. This animal produces a fine and silky wool with exceptional virtues. Indeed, it is extremely comfortable because of its softness, lightness and unequalled warmth.

Discover all our baby alpaca wool socks from BellePaga, which will keep you warm all winter long, on the website www.bellepaga.com !