Luxury scarf

When we think of luxury scarves, we often think of materials such as cashmere or silk. But there is another material that is just as luxurious, and without the drawbacks that other materials can have. This lesser known fibre is alpaca wool.
Alpaca wool scarves from BellePaga have a timeless charm and are suitable for both women and men. Their various lengths, colours and patterns are perfect for all styles. These luxury scarves are a great way to complete an outfit, add a touch of elegance and keep you warm.
Our scarves are made of Alpaca fibre as well as Baby Alpaca fibre. This is not from young Alpacas but from the first shearing of the adult animal. It is very fine, very soft and is considered the most prestigious in the world. It is therefore a top-of-the-range fibre.
Luxury scarf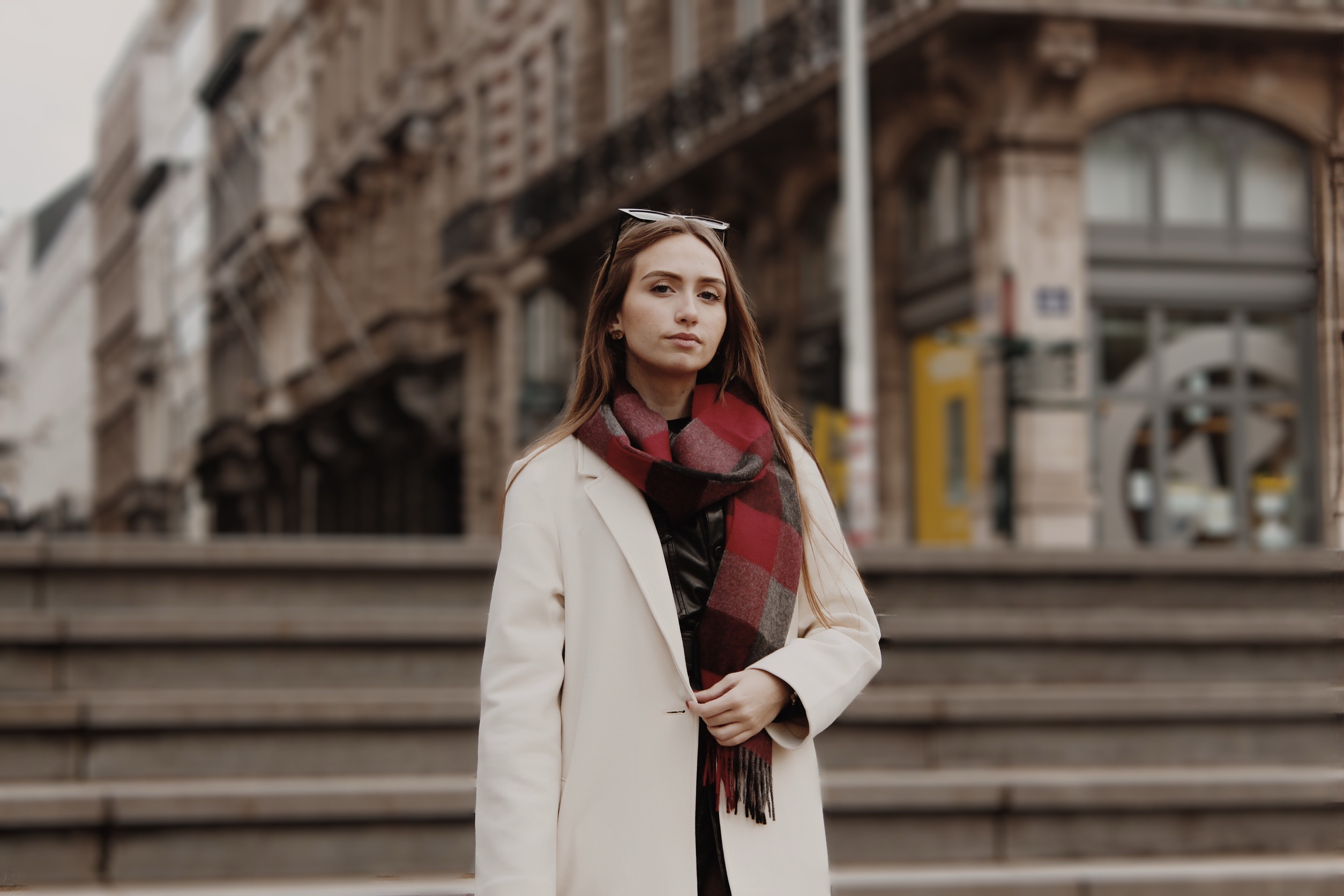 Baby alpaca fibre is between 18 and 22 microns in length and is the finest and most luxurious alpaca wool fibre, along with Royal baby alpaca (less than 18 microns). Despite its fineness, it is very resistant, about 4 times more than sheep's wool and incomparably soft.
In fact, it does not sting and can be worn next to the skin, without any risk of irritation, itching or redness. Why is this so? Because alpaca wool has hypoallergenic properties, it is the only wool that does not contain lanolin, a rather greasy substance known to cause allergic reactions.
Thanks to their thermoregulatory properties, alpaca wool scarves keep your neck warm while letting it breathe so you don't sweat! This makes them perfect for the colder seasons as well as the cooler summer evenings. The baby alpaca fibre is breathable, it does not retain moisture and therefore odours.
Our scarves are very durable and hardly pilling. This means that they will last longer and you can keep them for longer. The timeless style of the BellePaga scarves will allow you to wear them every year, while remaining fashionable and adding a cocooning touch to your outfit.
To take care of your scarves, remember to look after them well.
- Space out the washings. It is useless to wash your scarf after each use, it puts a lot of strain on the fibre. Air your scarf if necessary.
- We recommend hand washing or dry cleaning, cold, between 10 and 20 degrees. Ideally, use a shampoo for delicate wools.
- To avoid stretching the fibre, let your scarf dry in the open air, flat, without clothes pegs.
- The dryer is not recommended.
- Alpaca wool scarves do not wrinkle, but if necessary, place a cloth between them and the iron.
For more information, go to Maintenance.
Choosing an alpaca wool scarf is a sustainable and ecological choice. Firstly, alpacas have a small ecological footprint, they do not damage pastures with their legs, do not require a lot of resources and can go for days without eating or drinking. Its waste can also be used as a natural fertiliser.
Cashmere, on the other hand, is a noble and expensive material that is not very environmentally friendly. The cashmere goat ploughs pastures with its hooves and pulls up the roots of the grass it feeds on, which requires regular changes of ground and causes environmental concerns. The animal is also very resource-intensive.
An alpaca produces about 2.5kg to 5kg of wool per year, whereas a cashmere goat produces 150 grams, so more cashmere goats are needed for the same amount of wool.
Finally, our BellePaga scarves do not undergo any chemical treatment and their colours come from the natural dyes of the alpaca hair (there are about 22 of them!), or from mineral dyes, but they are in no way artificial dyes!
In Inca times, alpaca wool was a sign of wealth and was only reserved for the emperor and other high ranking people. It was considered more luxurious than gold and precious stones.
Branded scarf

The luxury scarf, in addition to its high quality, must be pretty and well worn. Here are 4 ways to wear your luxury scarf:

- For the more chilly, fold your scarf in half and wrap it around your neck. Hide the ends or tie them together.

- For a more stylish effect, simply place the scarf around your neck and swing one end over your shoulder so that it hangs down your back. This way of wearing the scarf protects your neck from the cold while adding elegance to your outfit.

- If you have an oversized scarf, you can also put it over your shoulders and join the two ends with a belt at the waist to form a kind of waistcoat. This gives a very classy and fashionable look while warming your upper body.

- For a more professional look, opt for the Parisian knot. Fold your scarf in half, wrap it around your neck and place the two ends together in the scarf loop.
BellePaga premium scarf

Our premium quality scarves are made by Peruvian craftsmen with an ancestral and unequalled know-how. Moreover, they are made in accordance with BellePaga's core values: local production, respect for animals and the environment.

Indeed, the alpacas live in their natural habitat, in Peru, in total freedom. They are sheared once a year, in the spring, in order to relieve them for the summer and not to affect their survival in winter, during extreme temperatures. In Peru, the alpaca is the god animal, so it is treated very well. BellePaga's founders make sure of this every year by visiting the area.

Our employees are fairly paid and work in good conditions. Each of our products, including our scarves, is finished by hand.

Alpaca wool scarves therefore combine thermoregulatory, hypoallergenic, warmth (7 times warmer than sheep's wool!), resistance and longevity, comfort and softness while being environmentally friendly. We limit waste and polluting unnecessary transport to a minimum by limiting intermediaries. Everything is produced in Peru.

What is still stopping you from buying an alpaca wool scarf?

We have a wide choice of patterns and colours, so you can match them to all your clothes without worrying. And because they are large and slightly stretchy, you can wear them as a scarf or a stole. They are ideal for all occasions!

All you have to do is choose the BellePaga scarf that suits you best!

Discover also our website and our other articles on BellePaga.com