Wool socks for women


These days we are noticing that there is a real comeback for socks. We no longer wear them just to keep our feet warm but also to make them stand out from our shoes and give us a special style. We are mixing practicality and functionality with appearance. But what materials should we choose when buying our socks? We often think that wool socks for women are exclusively for winter, we associate wool with something thick and warm, and itchy but today, BellePaga takes away these preconceptions and explains all about wool socks for women and their advantages! 


Special wool socks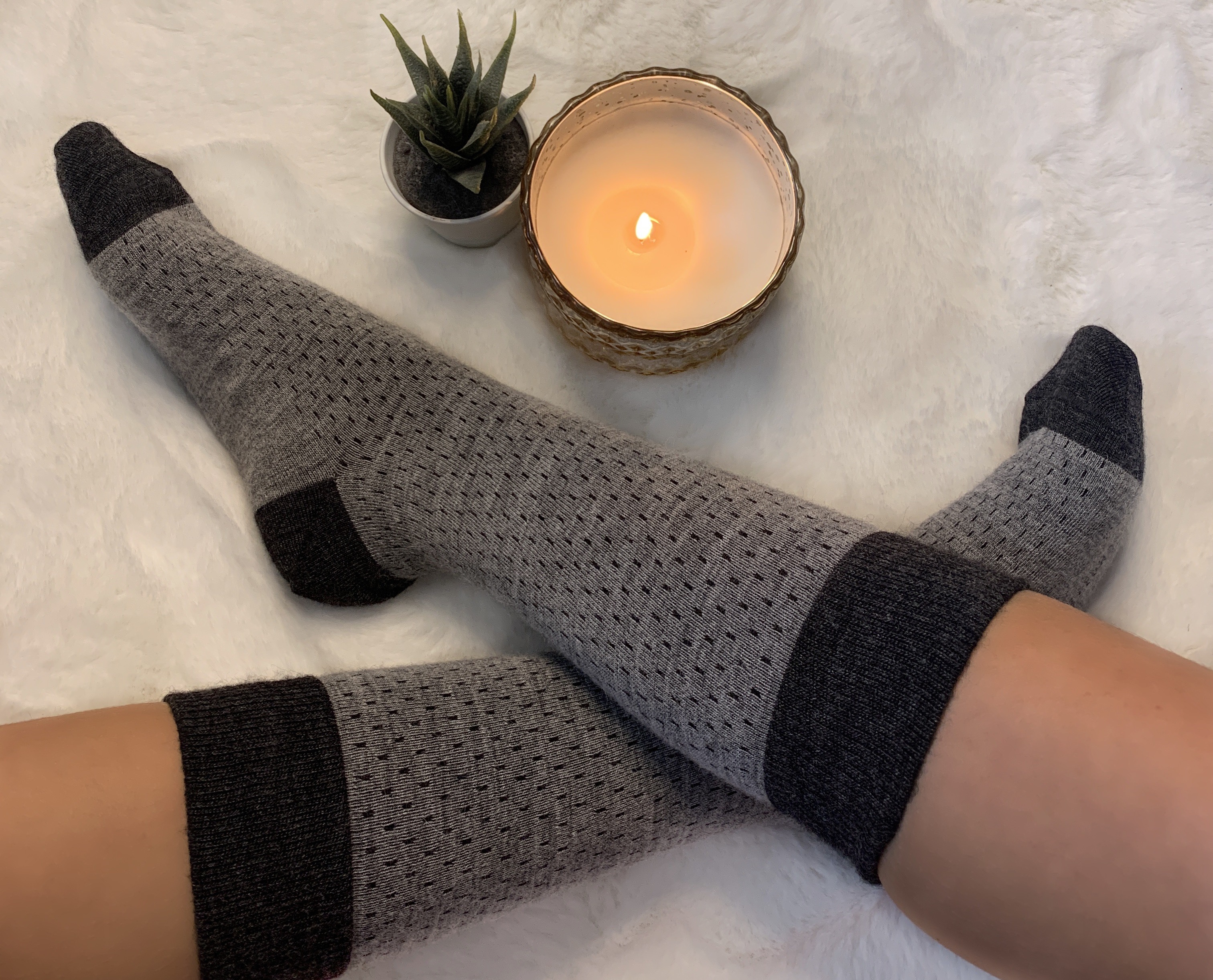 Generally, we tend to go for cotton socks. Thin and cheap, they also have a number of disadvantages. Indeed, acting like sponges, this material will encourage perspiration, and therefore inevitably, bad odours. In winter, this exacerbated perspiration will tend to reinforce the feeling of cold. What are the best materials for quality socks?

1) Bamboo: Bamboo fibre is known to be very soft, softer than cotton, antibacterial and breathable. Its natural softness is recommended for sensitive skin as it does not irritate or scratch. Its absorbent and antibacterial properties help to prevent moisture and odours. Bamboo fibre can be worn in winter as well as in summer thanks to its breathable properties.
Choosing bamboo socks is also an ecological choice. Cheaper and more durable than cashmere or silk, bamboo is 100% biodegradable and does not require the use of huge litres of water, as is the case with cotton. Bamboo grows very fast and spreads very easily, with no need for fertiliser and little or no chemical processing.
Opt for women's bamboo socks for the ultimate in comfort and softness.

2) Pima cotton: Pima cotton is the rare and noble cotton. Indeed, it represents only 3% of the world's cotton production. It is only cultivated in the high mountain plateaus, mainly in Peru. The cultivation of Pima cotton is part of an ecologically responsible approach. Only natural fertilizers are used, no chemicals are used and the cotton flowers are harvested by hand. Only natural dyes such as cochineal or tupa root are used as dyes. This fibre is therefore entirely natural.
Pima cotton fibre, also known as "South American silk", is considered to be the most beautiful cotton in the world. It has many qualities that will comfort your little feet. First of all, it is finer than the usual cotton, offering an incomparable softness and suppleness. The length of the fibre makes it very strong and therefore durable. This means that your socks will last a long time. It also has absorbent and insulating properties. Indeed, the fibre can absorb 8% of its weight in water, which allows your skin to breathe and thus avoid the accumulation of moisture. Pima cotton is thermoregulatory, which means that it retains our body heat while regulating its temperature so that it is neither too hot nor too cold. Finally, it is hypoallergenic, so it is suitable for the most sensitive skin and does not cause allergic reactions such as irritation and redness.
Pima cotton is therefore ideal for your socks. Its silkiness and fineness are perfectly combined with its resistance and its insulating and breathable properties.

3) Wool: Wool has many benefits and is an ideal material for women's wool socks. First of all, like Pima cotton and bamboo, it is very good at absorbing moisture to avoid excess perspiration and bad odours. It is also thermo-regulating, so we can wear it in any season, it will keep you warm in winter and keep you at the right temperature in summer. Its insulating properties ensure that heat does not escape without compressing your feet and cutting off your blood circulation.

Women's wool socks are the best choice in terms of materials. There are several types of wool such as cashmere, sheep's wool and alpaca wool. Which one is different?


Alpaca wool socks 




Alpaca wool is not as well known as other types of wool, but this does not mean that it is any less qualitative. Indeed, alpaca wool is known to be seven times warmer and four times more resistant than sheep's wool. It comes mainly from South American countries such as Peru, where alpacas live in the wild and face extreme temperatures, some days they can go from -25 degrees to 30 degrees, hence the importance of an insulating and thermoregulating wool for the animal. This means that the animal will be warm in the winter months and still be able to withstand the high temperatures of the summer months.

Alpaca wool is also hypoallergenic because it is the only wool that does not contain lanolin, a substance known to cause redness, irritation and itching. People with sensitive skin can therefore buy it without worrying about a possible allergic reaction.

Sheared once a year, an alpaca yields about 2.5 kg to 5 kg of wool, which makes it a rare wool. The wool has various fibres of incomparable softness, including baby alpaca, one of the silkiest and softest fibres in alpaca wool. It can be worn next to the skin without scratching. You'll feel like you're on cloud nine!

More ecological than cashmere wool and cotton, this camelid has a very small ecological footprint. The cashmere goat is an animal that destroys its pastures with its hooves and tears up the roots of the grass it feeds on, so it must constantly change its terrain. Cotton, on the other hand, requires very high quantities of water! Alpacas, on the other hand, have legs that do not damage the land and do not need a lot of resources to live; they can go several days without eating or drinking. Its waste can also be used as natural fertiliser.

Alpaca wool socks for women are the best choice in our opinion! Its thermoregulatory, insulating, hypoallergenic properties will bring you comfort, warmth and softness at the same time.


Entretien chaussettes alpaga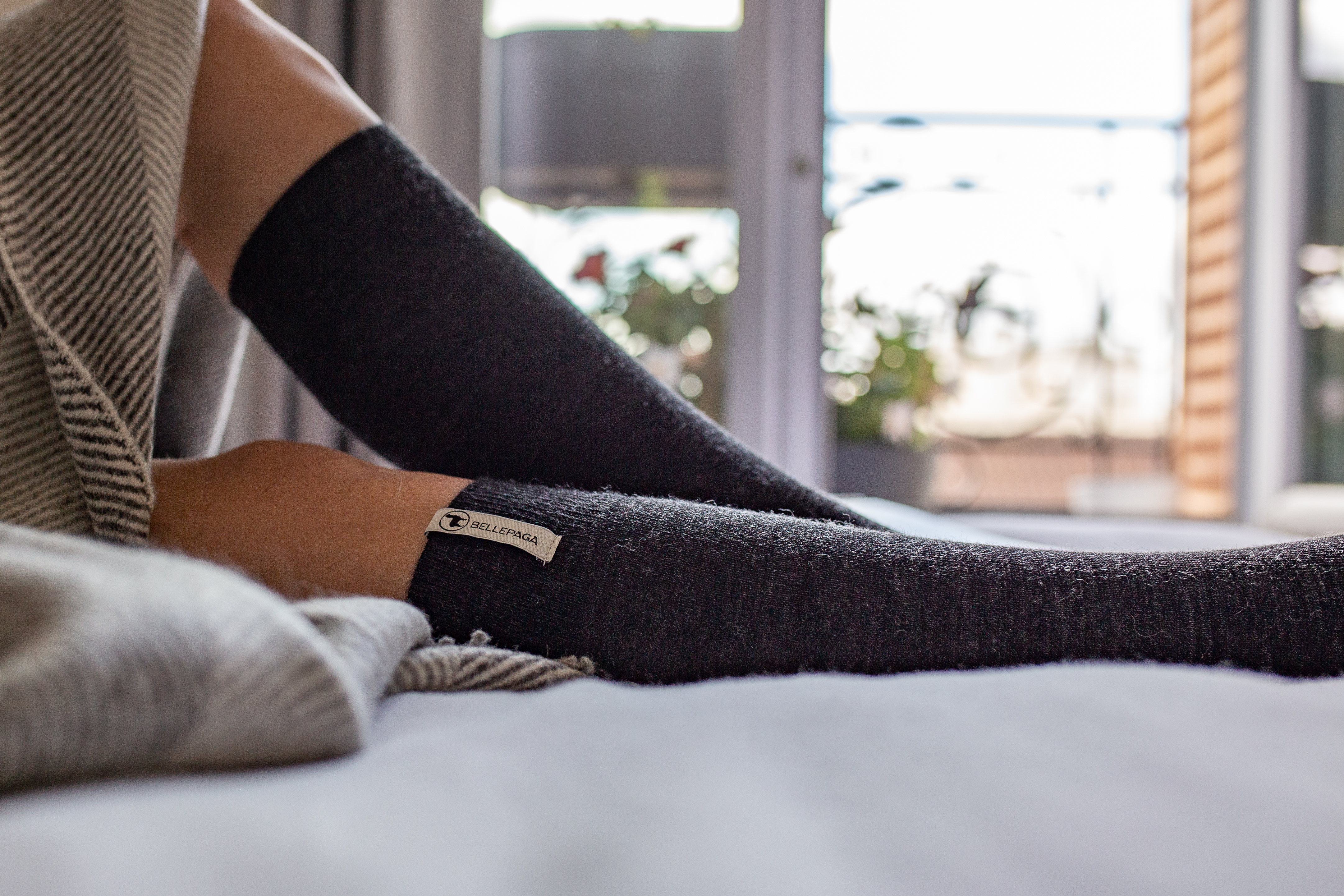 Alpaca wool is quite easy to care for. Women's wool socks can be machine washed at 30 degrees, with the rest of your clothes and ordinary soap. Drying in a dryer is not recommended, preferring to air dry, flat and without clothes pegs so as not to overstress the fibres.

For alpaca wool garments, a complete page on their care has been written in order to prolong the life of your products as much as possible.


Bellepaga women's wool socks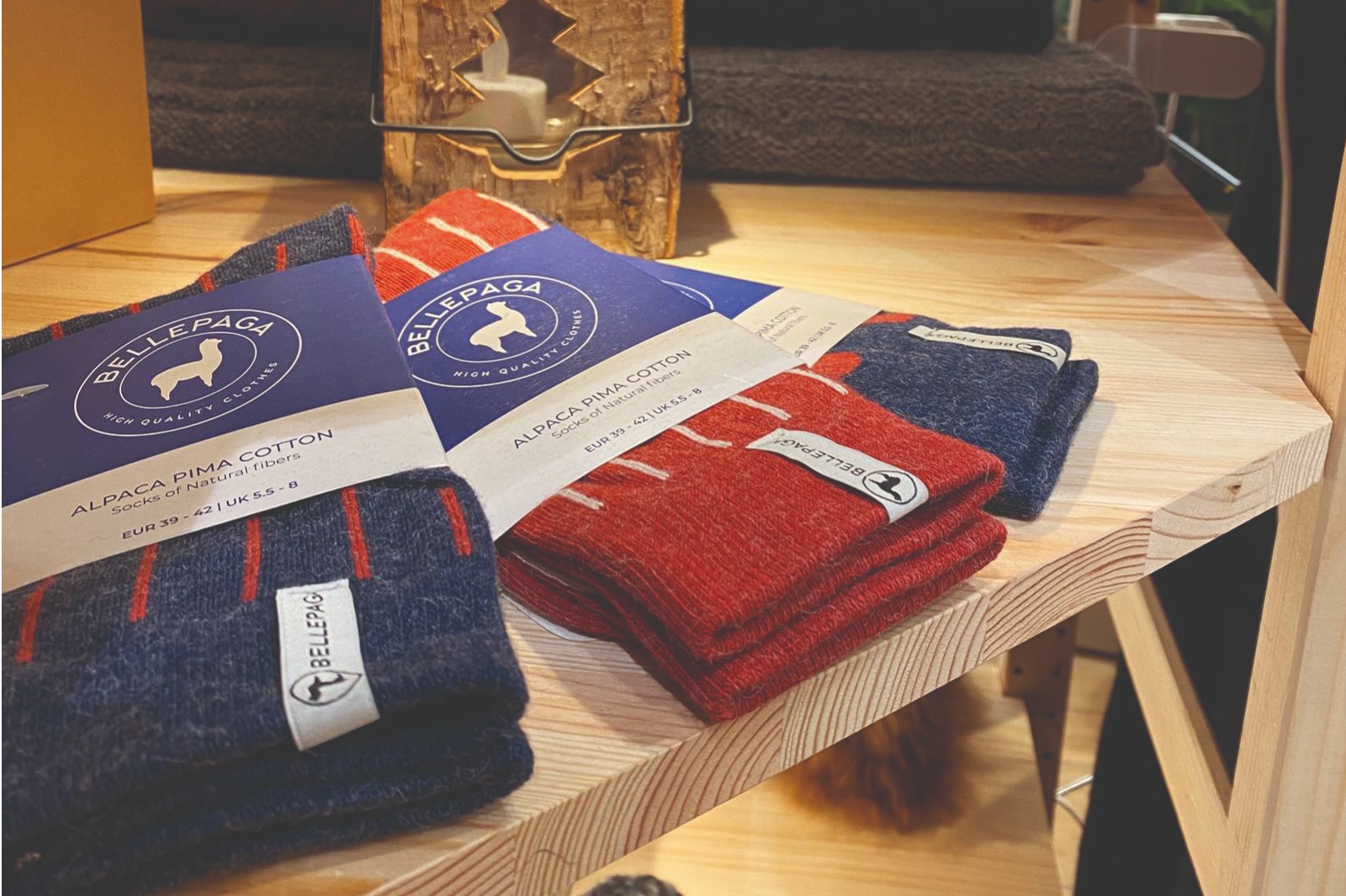 BellePaga women's wool socks offer you high quality and unique comfort. They are thin, warm, comfortable and stylish. They can be worn with skirts, shorts, jeans or trousers and in any style!

Our women's wool socks keep your feet warm and sweat-free and reduce odour. All this thanks to the Alpaca which is a thermoregulating fibre.

If you are a skier or hiker, these socks are also ideal to wear under your thick socks.
You will be able to keep them for many years as the Alpaca fibre is very resistant, does not pilling and wears very slowly, which is very practical for socks.

Thanks to our wide range of colours, patterns and heights, you will find what you are looking for and you will be able to match them with all your clothes and shoes. A white or black colour to keep it classic or a more colourful pair to add a touch of fantasy, anything goes!

Produced with respect for the animal and our employees, they are hand-finished with traditional Peruvian know-how, which is unequalled.

So don't hesitate any longer and fall in love with our pairs of socks that will give you warmth and style!

Discover our BellePaga women's wool socks here

Visit our website BellePaga.com to discover our wide range of articles for men, women and home decoration.