Women's wool knee high socks



We know that knee-high socks have come back into fashion in recent months. They are perfect with shorts, skirts, sneakers or boots. 
But how do you choose good knee-high socks?
Here we offer women's knee-high socks made of alpaca wool. 


They give you a unique feeling of comfort and softness. This is thanks to the
Alpaca fibre
which is extremely soft and therefore not aggressive to the skin, unlike ordinary wools.
These socks, while being elegant, keep you at an ideal level of warmth. Indeed, Alpaca wool has a thermo-regulating power which allows you to keep a fineness at the level of the textile while bringing warmth to the feet and legs. Thanks to the thermoregulation, your feet will stay dry, without perspiration. These socks are therefore perfect for most seasons as they adapt to all temperatures.
What's more, the high socks from BellePaga are of very high quality. We work with Peruvian craftsmen who are masters in this field. The manufacture of the socks is finished by hand for an even more perfect finish. They do not have stitching, which guarantees our customers unparalleled comfort. 
Our socks will follow you for many years because the Alpaca fiber is very resistant, it does not pill and wears out very slowly compared to other wools. It is the perfect fibre for clothing that is subjected to the harshest of conditions, such as socks. You will enjoy your socks for a long time, wash after wash. Moreover, they are easy to care for. Just put them in the machine at 30 degrees with the rest of your clothes. However, it is not recommended to put them in the dryer. 
Opt for our BellePaga Alpaca wool knee-high socks, they will make you look even more feminine and elegant !


 Women's mid thigh high socks wool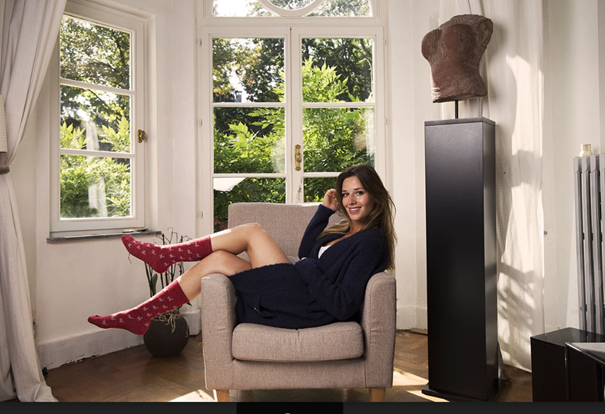 When it comes to the length of woolen knee-high socks, you can choose. You have short, mid-calf, mid-thigh, and tall socks. The choice of length will depend on how you want to wear them. Our classic BellePaga socks are already a good centimetre in length. But we have developed a collection of high socks in Alpaca fibre. We have different models like our classic Pitana high or Inca which are our mid-calf models as they are called.

Our high socks have no seams because they are handmade. They are soft, elastic and guarantee warmth, softness and the possibility of combining them with the most flamboyant outfits! Our socks keep your feet perfectly warm and at the right temperature, which also helps to reduce perspiration odours. If you want to be warm in winter when you go out in skirts and dresses with your tights, Pitana high socks are for you! Our models will perfectly match your outfit and keep you warm.


Original women's high socks



High socks for women are still very much in fashion, worn with tights, a nice skirt or a dress, it is the perfect outfit for winter to keep your legs warm. Indeed, high socks keep you warm thanks to their length. If you are cold, wear them under your jeans to keep your legs warm or with a nice pair of high boots to avoid the feeling of bare feet. There are many different styles to choose from, from the classic to the more original. At BellePaga we have different models of high wool socks, but we wanted to develop a collection of socks a little more original. Like weighted socks, pastel colours, socks with a print of our "mascot", which is the alpaca, we have even developed a collection of classic premium socks. There is something for everyone!


Women's high sport socks 



When hiking, high wool socks are a good alternative to avoid getting cold and to keep your walking boots in place, thus avoiding the risk of blisters or injuries. In addition to this, Alpaca wool allows you to keep your feet at a constant temperature, i.e. when you make a physical effort, you will think that you can sweat from your feet, since the sock keeps you warm, but in reality the Alpaca fibre has a thermal power, which allows you not to sweat from your feet but on the contrary to let your feet breathe. When you know that a good pair of socks helps to keep your feet warm, comfortable and protected, don't hesitate to find the right pair for you!
Alpaca fibre



Alpaca is the textile fibre given by the alpaca, this fibre comes from the wool and the fabric produced with the hair of this animal. Characteristics: Alpaca wool is actually a luxurious natural fibre, the products made with this wool are of a very high quality, the main characteristics of this one are the softness, the warmth, the resistance, the lightness but especially its insulating and thermal power. Alpaca is also a luxury fibre to knit, this wool is extremely soft for the knitting yarn. Unlike sheep's wool, which is generally made of lanolin, alpaca does not have any, which makes alpaca wool hypoallergenic, which is interesting for the most sensitive skins. What you need to understand: We often use the term Baby Alpaca, in fact, it is not the baby of the alpaca as one might think, the Baby Alpaca is actually a designation used to classify the different fibres in terms of micron (thickness of the fibre). This actually comes from the adult animal having a very fine fleece. The older the animal gets, the thinner the fleece will become. This is why the fleece of young alpacas, called "baby alpacas", is softer. This wool is considered to be the premium yarn for knitting. There are 22 different colour endings in alpacas. How is the wool produced? Every year, the alpaca is shorn. Often in the spring season, about 2.5 kg are harvested per animal. The hair is sorted, washed and then spun.

BellePaga is above all a brand that respects what nature has to offer. With us, you lean towards a more eco-responsible fashion but you also benefit from the products of Alpaca wool. Our products are of unparalleled quality. That's why we work with qualified people to ensure this quality and offer you the best service. Alpaca wool, also known as the wool of the gods, has exceptional virtues and is still little known at the moment. However, this wool, which has many benefits, is very valuable for people who are sensitive to cold. Our brand achieves a perfect balance between comfort, warmth and elegance. A modern and trendy style that perfectly combines nature and the city.

Our brand has a strong value and is closely linked to nature, fair trade and sustainable development. The alpaca, which is the cousin of the llama, lives on the highest plateau of the Andes, in South America, at an altitude of more than 4000 meters. The wool it produces is the most delicate and silky wool in the world and has many positive points. Indeed, it is very comfortable due to its softness, lightness and incomparable warmth. We advocate ethical and ecological production as well as the know-how of our producers, the respect of the animal and the fair remuneration of the craftsmen who work for our brand. In fact, we have our socks and the rest of our products produced in specialised regions by local producers who have great traditional know-how and who respect their animals.

Alpacas are raised in their natural habitat in the Andes Mountains, at an altitude of over 4,000 metres. Their fibre comes from spring shearing. We are ecologically committed, as alpacas have a very low impact on the ecology. In today's world, we have to be concerned about what we consume, it is more than necessary to find a healthy balance.


Today, thanks to BellePaga, the qualities of this magnificent natural fibre are revealed through their collection of elegant clothes and accessories that allow you to enjoy these different virtues through your clothes and accessories.

Finally, our brand offers you natural and elegant alpaca wool clothing and accessories for women, men, home and decoration.

Discover without further delay our collection of high socks for women in alpaca wool, to try it is to adopt it!