Knee High Socks

The Alpaca wool high socks for women and men of our brand have an exceptional thermal power. Indeed, Alpaca is very well known for its important insulating power (7 times warmer than sheep wool!) and thermoregulation (significantly reduces feet perspiration). High socks are back on top of the winter trends, they go perfectly with shorts, skirts, dresses, trainers or even ankle boots.

High socks are back on top of the winter trends, they go perfectly with shorts, skirts, dresses, trainers or even ankle boots.


 Wool knee high socks for women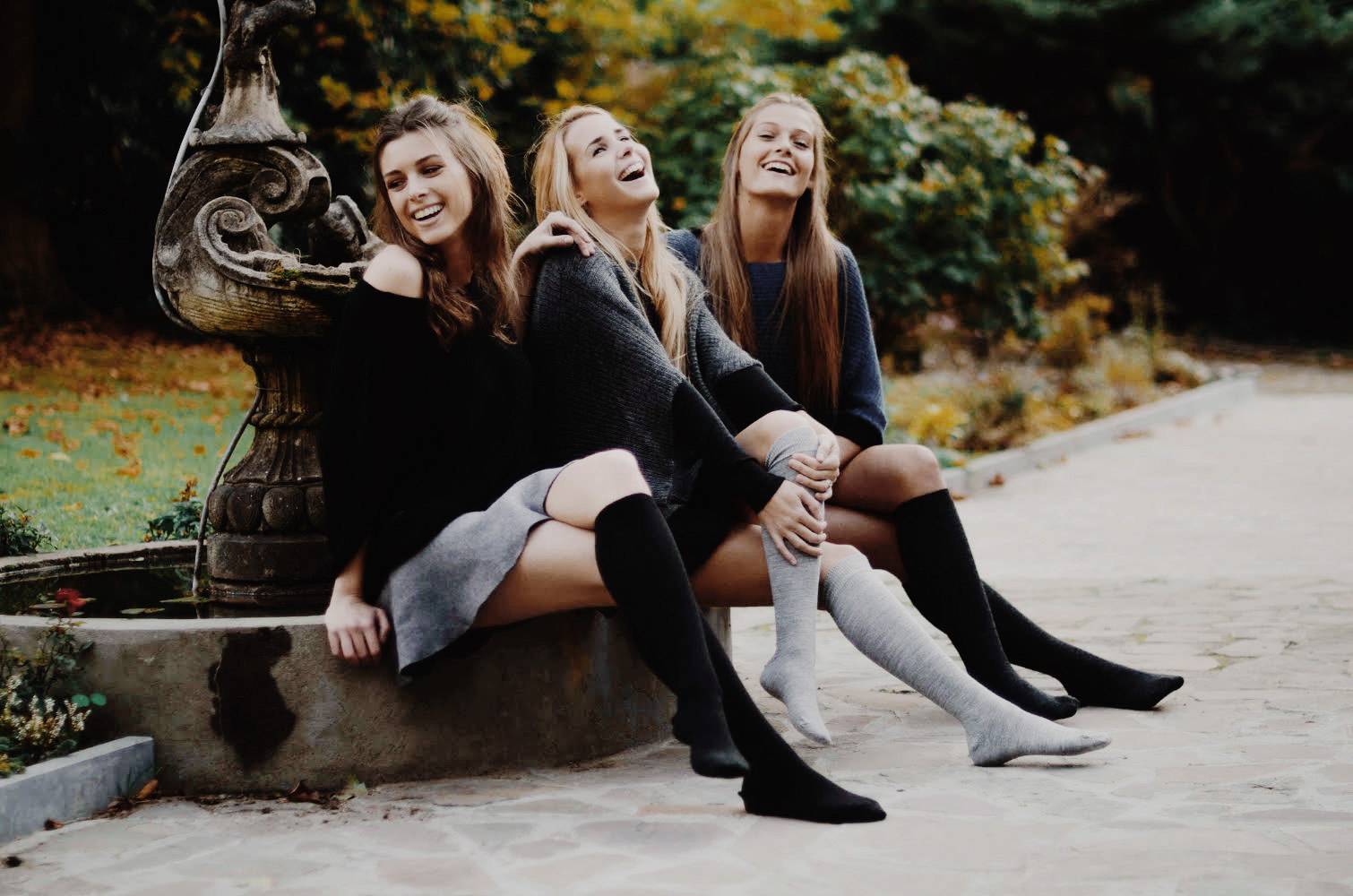 These high socks have been carefully designed to give you a unique feeling of comfort and softness. Alpaca is very soft and does not sting the skin like other wools. These high socks remain thin and elegant but have been designed to provide the ideal level of warmth in all circumstances. Indeed, the thermoregulatory power of Alpaca wool is such that it is possible to keep the thickness of the high sock thin, while providing the necessary warmth to your feet and legs, even in the coldest weather. These high socks will surprise you with their effectiveness in keeping your feet warm and are perfect to wear between September and June. Your legs will always be at the right temperature and your feet will be dry, without sweating. For women, we recommend the knee-high socks we have made for you, which cover your legs above the knee.

They are perfect to match with a skirt, dress, or mini shorts. These high socks will keep you feminine, attractive and elegant while staying warm, even in the middle of winter. For men, our high socks for men stop at the knee. They will keep you perfectly warm, you can wear them under your trousers, jeans, suit or even pulled up and highlighted. Our natural and cocooning high socks bring you warmth while being elegant.

Indeed, alpaca wool has a thermoregulatory power that keeps your body at the right temperature and in this case your feet, without sweating and lets your skin breathe. These high socks are therefore perfect for all seasons as they adapt to all climatic changes. 

The
BellePaga
brand's knee high Alpaca socks are of very high quality. Indeed, the manufacture of each sock is finished and checked by hand for a perfect finish. Our knee high socks have no stitching, and to guarantee our customers an unequalled comfort, we have chosen hand remeshing, which has become very rare but which gives a much higher comfort compared to machine remeshing. We have also decided to privilege high quality by choosing to collaborate with the masters of know-how for centuries in this particular fiber:
Peruvian and Bolivian
craftsmen. Indeed, they have a great knowledge of this fibre transmitted from generation to generation and this is reflected in the comfort and comfort they will provide you. This will be felt directly, and especially after several hours worn during the day. They will therefore provide you with exceptional comfort and you will not be able to do without them! Alpaca fibre is a very strong fibre, which is 4 times stronger than sheep's wool, does not lint, and therefore wears very slowly.
It is therefore the ideal fibre for textiles that are subjected to severe tests such as socks. You will avoid the frustrations of classic socks which are quickly found. These warm socks remain in perfect condition for many years, wash after wash, and you can enjoy them for a long time. Alpaca is very well known for its insulating power.
Alpaca wool is 7 times warmer
than sheep wool when it is cold and allows feet to breathe much better when they are hot. It therefore has exceptional thermoregulatory properties, which is very important for our feet, which are often subjected to strong temperature changes. The care of our Alpaca wool socks is easy. You can put them in the machine at
30 degrees
with the rest of your clothes without having to pay any particular attention to them. You just don't want to dry them in the machine. Our high socks are perfect for all seasons.
Indeed, due to the highly thermoregulatory
nature of Alpaca wool
, they will adapt perfectly to autumn and spring temperatures, but also to winter. Indeed, they are socks that will always keep you warm but without ever having the disadvantage of traditional warm socks that make you sweat, with the disadvantages that this entails such as the multiplication of bacteria and odors, and the cold that comes to be put on feet damp with perspiration and that freezes them. Your legs breathe and are in ideal comfort all day long.
High socks in alpaca fibre
High socks made of alpaca fibre are the right compromise when your feet are cold or when you sweat. Indeed, if you have never heard of alpaca wool before, we will give you a short summary of the many benefits of this wool. First of all, the term "wool" is generally used to refer to fibres produced from different breeds of sheep. It is also used to refer to fibres produced from different animal species. The fibre actually refers to the micron, of which the following are some classifications:
Vicuña: 10 to 12 microns Merino: 12 to 22 microns Cashmere goat: 15 to 19 microns Alpaca: 12 to 30 microns Camel: 18 to 26 microns Angora goat: 20 to 30 microns Llama: 20 to 40 microns
Among the different fibres found here,
BellePaga
has chosen the
Baby Alpaca
fibre which comes from the shearing of the adult animal, it is finer, softer and silkier. It is one of the most prestigious fibres in the world because it has a large number of unique virtues. Indeed, the particularity of alpaca wool is that its insulating power is 7 times more resistant than sheep's wool, and its unequalled softness is close to cashmere wool. Therefore, this type of wool has good temperature regulating properties and can better protect you from the cold without making you sweat. It is also very light, pleasant to wear and respects the most sensitive skin. It is the ideal wool for winter, hiking, winter sports and other occasions. Alpaca has a high resistance and does not pilling, besides the maintenance of this wool can be done in the washing machine. This can extend the life of clothing and accessories. You can keep your alpaca clothes in good condition for a long time, if you take care of them of course.
BellePaga is the Belgian brand that offers you clothes and accessories on our website. Our articles are there to help you fight against the cold. You can find on the website our warm scarves, our beautiful hats and our gloves made of
Baby Alpaca
wool. Indeed, Baby Alpaca wool is known for its many properties. This fibre is the warmest and has 7 times more insulating power than sheep's wool. This wool allows you to protect yourself much better from the cold. It also offers maximum softness and this fibre is thermoregulating. Do not hesitate to consult our
Men's and Women's collection
to discover our products in Alpaca wool, you will not be able to do without it during each winter season!
Try these exceptional
high socks
now, and order them for
women,
 and for
men
!
Also discover all the other Alpaca products in our
women's
and
men's
collections.