Alpagas dans les environs
If you do not yet know the prestigious animal that is the alpaca, we invite you to discover it in 
alpacas in the surroundings
  ! 
You will love this  
activity
  so  
fun
  and soothing that you will not be able to do without it.
Alpaca farms are perfect for meeting alpacas in a  
wonderful setting
 , surrounded by nature and discovering their way of life. 
The alpaca farms in the surrounding area are where these animals were born, developed and bred.
The nearby alpaca farm is a good place for these curious, peaceful and majestic animals. 
Breeders ensure the well-being of their alpacas and provide them with lots of love.
Indeed, reproduction must respect the way of life of the animal, adapt to its needs and reproduce as much as possible in its natural habitat. 
Breeders are passionate and cherish their animals. 
If you have the chance to visit one of the alpaca farms in the area, you will discover the passion of working in the great outdoors with these prestigious animals, which are gentle, calm, majestic and so relaxed that you could fall asleep next to them. 'them. 
During the various visits to alpaca farms, you will have the opportunity to take a  
walk
  or hike accompanied by the alpacas. 
It's a way to get to know these animals in the most beautiful way in the middle of nature and in a  
relaxing and soothing setting.

Alpaca and its virtues  
Indeed, alpacas are very intelligent and kind. 
They are bred as  
hobby animals.
There are two types of alpacas, on the one hand the  
Huacaya
 alpacas  which has a soft and curly fiber similar to that of sheep.
Huacaya Alpacas are also known as Andean Sheep and on the other hand  
Suris
, their wool is formed in the form of "braids" or wicks all over the body. 
On this alpaca we are looking for the same points of finesse, length, density. 
The wicks can have different shapes, some animals' wicks will be very thin and straight, while others will be larger. 
More importantly, these wicks are the same all over the animal's body. 
The alpaca is an increasingly popular animal. 
This is why we see  
alpaca farms
  in many  
European countries
 . 
Thanks to these farms, you can now easily find an alpaca farm nearby. 
Spending time with alpacas can be very beneficial as they are very calm and gentle.
Whether you're a kid or an adult, they're gentle, touch-loving partners, and it's for all ages. 
Alpaca encounter is also not very common so this unique experience is becoming more and more accessible to people as it is easier now for people to find alpaca farms in the surrounding area, that there a few years old. 
Concerning breeding conditions,  
respect for animals
  is essential for breeders and for BellePaga. 
This is why we assure you that the animals evolve freely in their natural habitat, without enclosure or barrier. 
Alpacas are treated as living beings. 
So if you are looking for an original and fun experience to share with family, friends or as a couple.

New Alpaca platform
If you've wondered how to meet alpacas in the area, we've asked that too.
This is why we wanted to develop a brand new  local 
alpaca referencing platform
  . 
Whether you come from France, Germany, the Netherlands, Luxembourg or the United Kingdom, you can find the  
nearest farms
 in your area and close to your area. 
Thanks to the very first platform, the search for farms or farms is no longer a problem. 
You will discover different groups of male and female alpacas, you will have the chance to discover them whether on a walk or during a visit to the farm. 
These visits will also allow you to familiarize yourself with alpaca fiber, since in most farms, breeders take care of the shearing of their animals in order to harvest the wonderful and soft alpaca fiber. 
The merits of this fiber will no longer be indifferent to you after that.
We also invite you to discover our  
collection of clothing and accessories
  made only of  
natural fiber.
 including that which constitutes the composition of all our articles the fiber of "  
Baby Alpaca
  ". 
From the shearing of the adult animal. 
Our range adapts to all styles from elegant to urban while remaining sophisticated.
The quality of our wool and our models is no longer to be proven, we work with  
Peruvian know-how
 . 
Our brand finds the balance between authenticity, quality, naturalness, respect for our workers and respect for animals, and in fair trade.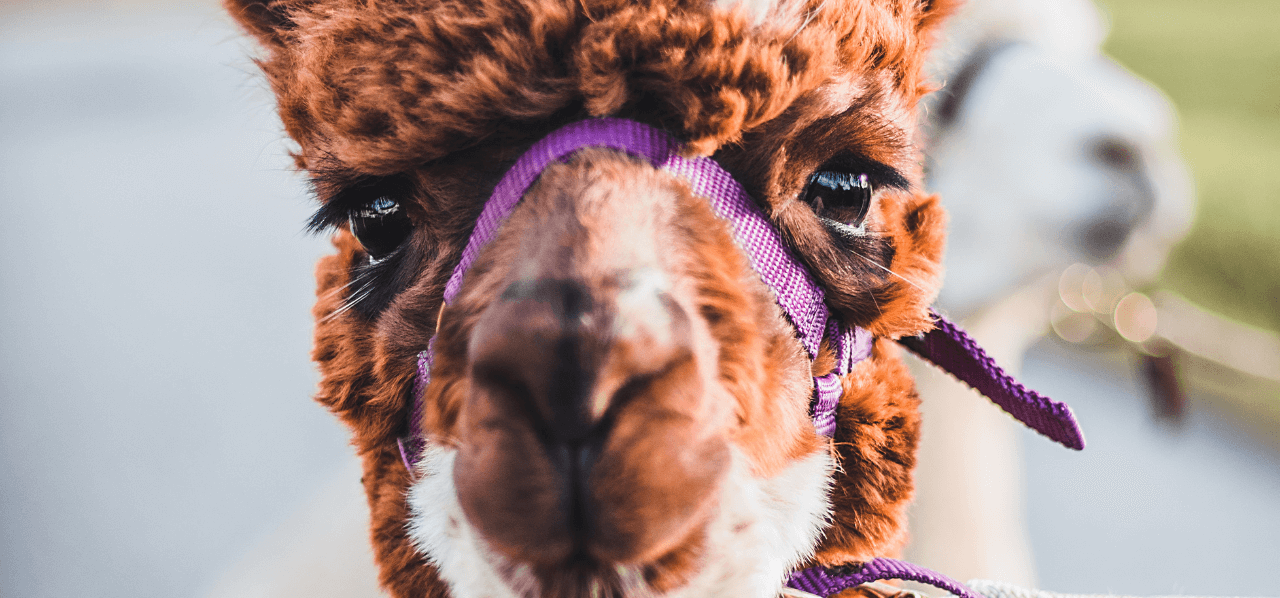 Why choose to  
visit an alpaca farm
  nearby? 
First of all, because you no longer need to search the internet for hours since we provide you with this service thanks to our interactive platform which brings together farms and alpaca farms in the surrounding area, across Europe on 
 the platform
 . 
So whether you live in the UK or Belgium, finding an alpaca farm nearby is easy, and we'll make it easy for you to find a location that's right for you!
A visit to a nearby alpaca farm will allow you to breathe in the fresh air, take a step back and discover something new. 
Some alpaca farms near you can also host special events, which can be an unforgettable experience. 
Imagine your bachelor party was spent with an alpaca, or your ring bearer is an alpaca! 
Some alpaca farms near you also offer alpaca yoga classes.
During the visits you will have the opportunity to perform many activities. 
You will be able to discover the  
different groups of alpacas
  such as small babies, males and females. 
Breeders are available to answer any questions you may have about their way of life, their habitat, their wool, their reproduction, etc. 
You will be able to appreciate and discover the  
quality and softness of alpaca wool
 , by caressing them for example. 
You can immortalize the moment with photos. 
This activity is to be done as a family with your children, friends and accompanied by your companion.
Indeed, for an  
optimal experience
  of our  
platform
 , the BellePaga team went to an alpaca farm in the surroundings and more precisely in Rochefort in Belgium. 
This experience was more than excellent and wonderful.
The visit began with a presentation of the fiber of one of the alpacas present in the breeding which had been shorn, we were able to discover the fiber of the alpaca which we already knew very well but which is always a real pleasure. when touched. 
The feeling of softness and comfort it brings is worth all the gold in the world. 
Then, the visit to continue towards the meeting towards a group of several alpacas. 
This encounter remains unique and wonderful even before our arrival near the alpacas we all already felt soothed and the closer we got the more they were intrigued by our arrival. 
We let them come to us so as not to rush them and because to see them advancing towards us, 
showed us how intrigued they were by our visit and the ambition they had to discover us a little closer. 
We won't reveal everything to you, but we were able to approach them so closely that we were able to feed and pet them and learn about each of them. 
In a group there is always someone less fearful and one of the alpacas really liked our presence.
So if you want to discover alpacas like us, as well as alpaca fiber, then go to our  
website
  to discover both our collection of clothing and accessories in natural "  
baby alpaca
  " fiber, as well as our referencing platform for nearby alpaca farms to discover alpacas in a calm landscape and to take a breath of fresh air. 
We invite you to discover our SEO platform by clicking here.

What is our platform for?
You can discover through a visit, the alpacas and walk around the farm to learn more about these animals. 
You can learn more about their diets, their way of life, and their natural habitat. 
As well as distinguishing the male alpaca from a female alpaca. 
You can meet an alpaca in the surroundings, and of course you can also learn about them. 
Have several information about their fur. 
At an alpaca farm near you, you can also choose to take an alpaca hike nearby. 
It's a fun activity, you can take the alpaca for a walk in the nature that surrounds the farm. 
This will allow you to spend time with an alpaca and get to know it and approach it closer than ever.
To do this, fill in your city in the search bar and our SEO platform will show you the alpaca farms in the surroundings in your area. 
Depending on the activity you want to do, you can choose the one that appeals to you the most. 
We will give you the contact details of each farm to help you live the experience with alpacas 
If you want to discover this activity and meet the alpacas come and  
discover
  without further delay our new  
referencing platform
 for an experience with alpacas through different regions !