Gift ideas for men
An occasion is coming up but you still haven't found the perfect gift?
Don't worry, today we're going to give you a list of gift ideas for men that will please every occasion. Whether it's for your brother, your husband, or a friend or even a colleague, there is something for everyone! We will offer you quality products that will last over time without ever pilling. Our products are made of alpaca wool, a wool known for its natural and exceptional virtues such as its longevity, comfort, thermoregulation, and so on! Offer softness, warmth and comfort in all seasons! In addition to being much more resistant and comfortable, alpaca wool is also hypoallergenic and will not pose any problem, even for the most sensitive of us.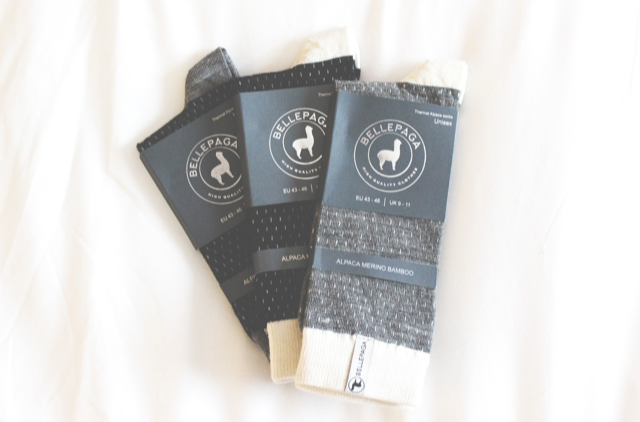 Our first gift idea for men is the Wira premium sock.
Every time someone tries this sock, the amazement is the same. Soon the verdict is in and they tell us it's the most comfortable sock they've ever tried. These sublime socks are part of BellePaga's hottest and most prestigious line, which is why it is in the top 1 of our men's gift ideas.
This sock is the result of a subtle combination of 2 excellent natural fibers: baby alpaca wool, known for its softness and bamboo fiber known for its breathability. Baby Alpaca fiber is warm, thermoregulating, and long-lasting, it is also hypoallergenic. The bamboo fiber has antibacterial and breathable properties. The rest of the selected fibers allow you to adapt well to your foot and to be easily machine washable at 30 degrees.
To offer you a unique comfort experience, their seams are imperceptible, the elastic is flexible and the fineness of our socks perfects our premium Wira down to the smallest details. Let yourself be enchanted by the unique comfort of these socks! When you compare alpaca wool socks with more traditional wool socks, such as sheep's wool, you will notice that alpaca wool is 7 times warmer than sheep's wool, but it also has an average lifespan up to 4 times longer than sheep's wool
Our second gift idea for men is the Apocuna scarf. Made from 70% baby alpaca wool, it will wrap the lucky man in warmth and comfort in all seasons.
It is important to note that baby alpaca wool does not come from young alpacas, in other words, "baby alpacas", but baby alpaca is actually a very small part of the wool of an adult alpaca which is much softer than the rest of its wool. This is why baby alpaca wool is known to be more luxurious than classic alpaca wool.
A great advantage of baby alpaca wool in addition to its remarkable softness is the fact that alpaca wool is hypoallergenic. This virtue makes our scarves suitable for even the most sensitive of us.
Its softness and hypoallergenicity ensure that our scarves will not scratch or cause red patches on your neck. In addition to its softness and hypoallergenicity, alpaca wool is also one of the only wools in the world that does not pill and will therefore keep its original splendor for a longer period of time.
In addition to not pilling, alpaca wool is 4 times stronger than sheep's wool, allowing us to offer you products of an amazing quality and which will allow you to keep your products found in our men's gift ideas much longer in time.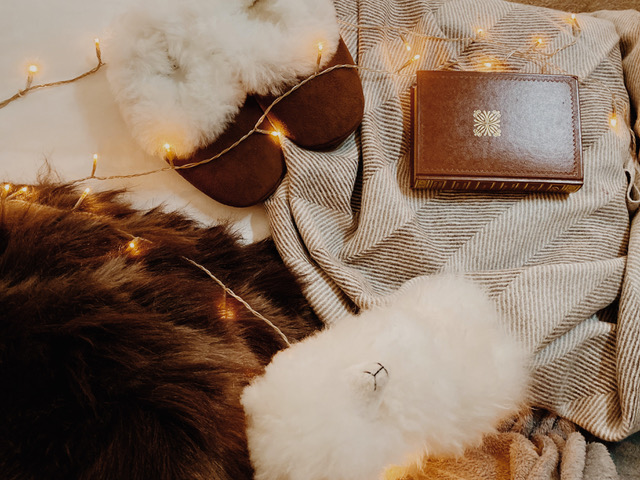 Our third gift idea for men is the La Paz slippers. Our La Paz slippers are of unparalleled comfort, with an exterior of Baby Alpaca and Polyurethane and their interior of sheepskin, our slippers can immerse you in a world of softness and warmth. Your feet will feel like they are on a cloud.
Alpaca wool being naturally breathable, our slippers will keep your feet warm but without making them sweat. Thanks to their anti-slip pads glued on their soles, you avoid slipping and hurting yourself.
With their exceptional comfort, the person for whom you choose this gift will regret not spending more time at home wearing them.
The wool inside the slipper is not fur, but sheep's wool. At BellePaga, animal welfare is one of our top priorities and that's why we have exceptionally chosen another type of wool than our favorite one, alpaca, but we have chosen sheep's wool in order to bring you just as much comfort, but still being respectful of all animals.
This gift idea for men is really the ideal idea for men who love the comfort and who like to spend time at home far from the cold and discomfort of the city.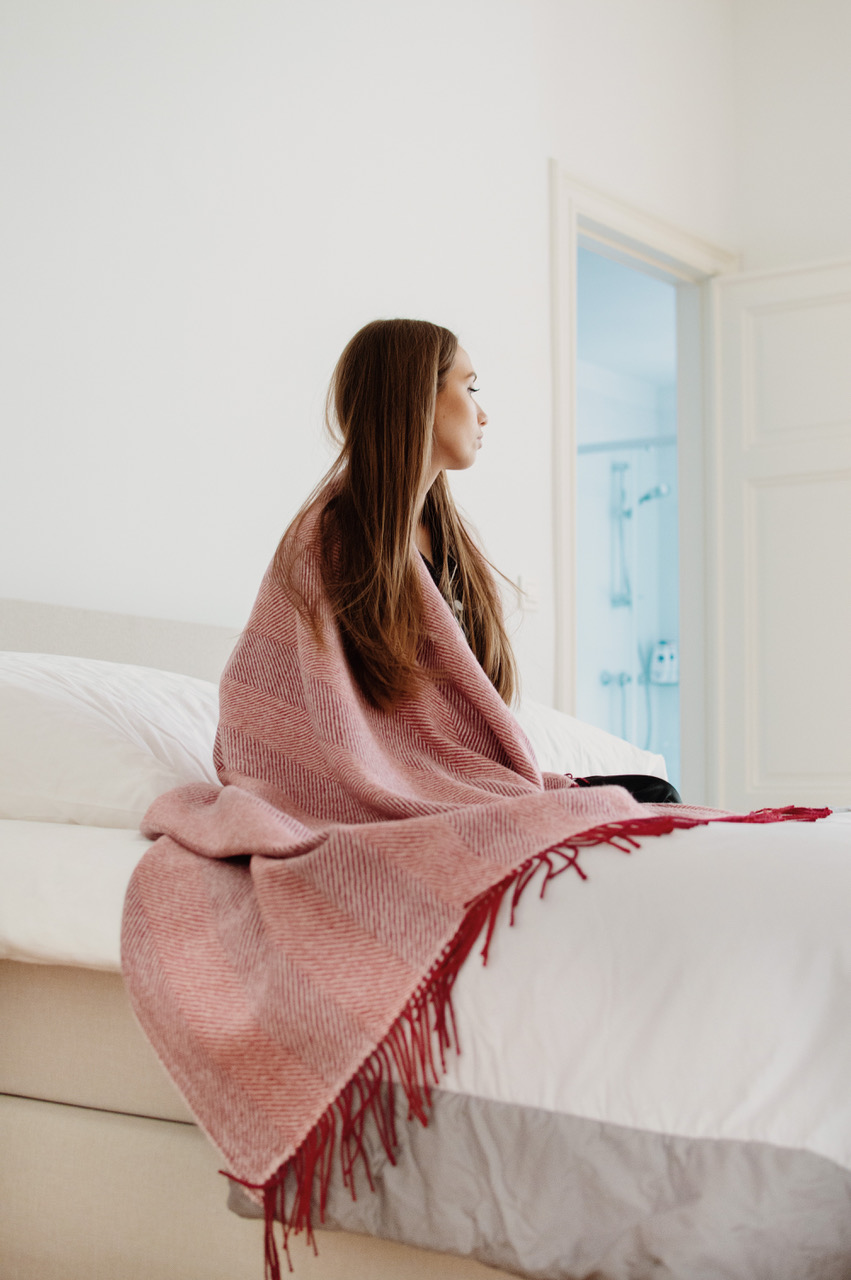 Our plaids are a great gift idea for men, they bring that touch of softness and comfort that makes any home cozier. Made from 100% alpaca wool, our plaids will bring you all the benefits of alpaca wool.
Our plaids are very warm, thanks to the warmth of alpaca wool, but you will never feel too hot under the plaid because this extraordinary wool also has thermoregulatory properties. Alpaca wool is also extremely breathable so you won't sweat under your throw.
Our alpaca wool throws are not only very warm and soft, alpaca wool is also very thin, which allows us to make throws that are warm but also thin and particularly light.
This gift idea for men will suit everyone, even the most sensitive of us, since this wool is not only much softer than average but also hypoallergenic. Thanks to the softness of this so-called "wool of the gods", our plaids do not itch and could even be suitable for babies and children, so there is really nothing to worry about.
The last property of alpaca wool that brings a real benefit to our plaids is longevity. Indeed, this wool is super strong and is the only wool that does not pill over time, which will allow you to keep your plaid for years without having to worry about it getting damaged. You will be able to keep your throw in good condition for an average of 4 times longer than you would have if it was made from sheep's wool.
Bellepaga tip: Wash your alpaca socks
Wool products often mean complicated maintenance. Fortunately, at BellePaga nothing is complicated. Alpaca wool has the advantage of being much more resistant than classic wool, which means that your alpaca socks will be much stronger than your classic wool socks.
Because of this strength and the fact that alpaca wool is non-pilling wool, you will be able to keep your socks in good condition for much longer than you are used to.
The fact that alpaca wool does not pill brings another advantage to your socks. They do not need to be washed by hand. A machine cleaning in the wool program or even in the soft program (at 30°C) will be enough and will not put your clothes in danger. So you won't have to worry about your socks shrinking in the washing machine.
Another big advantage of our alpaca wool socks is the fact that we use natural dyes to color our wool. These dyes come from the animals themselves or from mineral pigments (also natural). These pigments are much more resistant than chemical dyes and allow us to keep the colors full of brilliance and splendor without fading and while being environmentally friendly.
Discover our products and be inspired by our gift ideas for men.
Contact us for any additional information, we will be happy to answer your questions!