Alpaca Socks for Men
If you are used to cotton or synthetic socks, alpaca wool socks for men will revolutionize your habits! Unfortunately, the so-called classic socks, designed with materials such as cotton or synthetic are often not very pleasant, not comfortable, of poor quality and especially they sting! Fortunately, there is a solution:
Alpaca wool is a real revolution for foot problems:
perspiration, cold feet, odors, lack of comfort.
Our alpaca socks for men are made from this wonderful wool. The alpaca is an animal that lives at an altitude of over 4000 meters in the Andes Mountains of South America. Also known as the
"wool of the gods
", this wool is known to have exceptional natural characteristics.
At BellePaga, we work to relieve you of all these problems: our alpaca socks for men will get rid of all the classic problems known for socks.
Softness
,
lightness
and
comfort
are just some of their many qualities.
Alpaca socks from BellePaga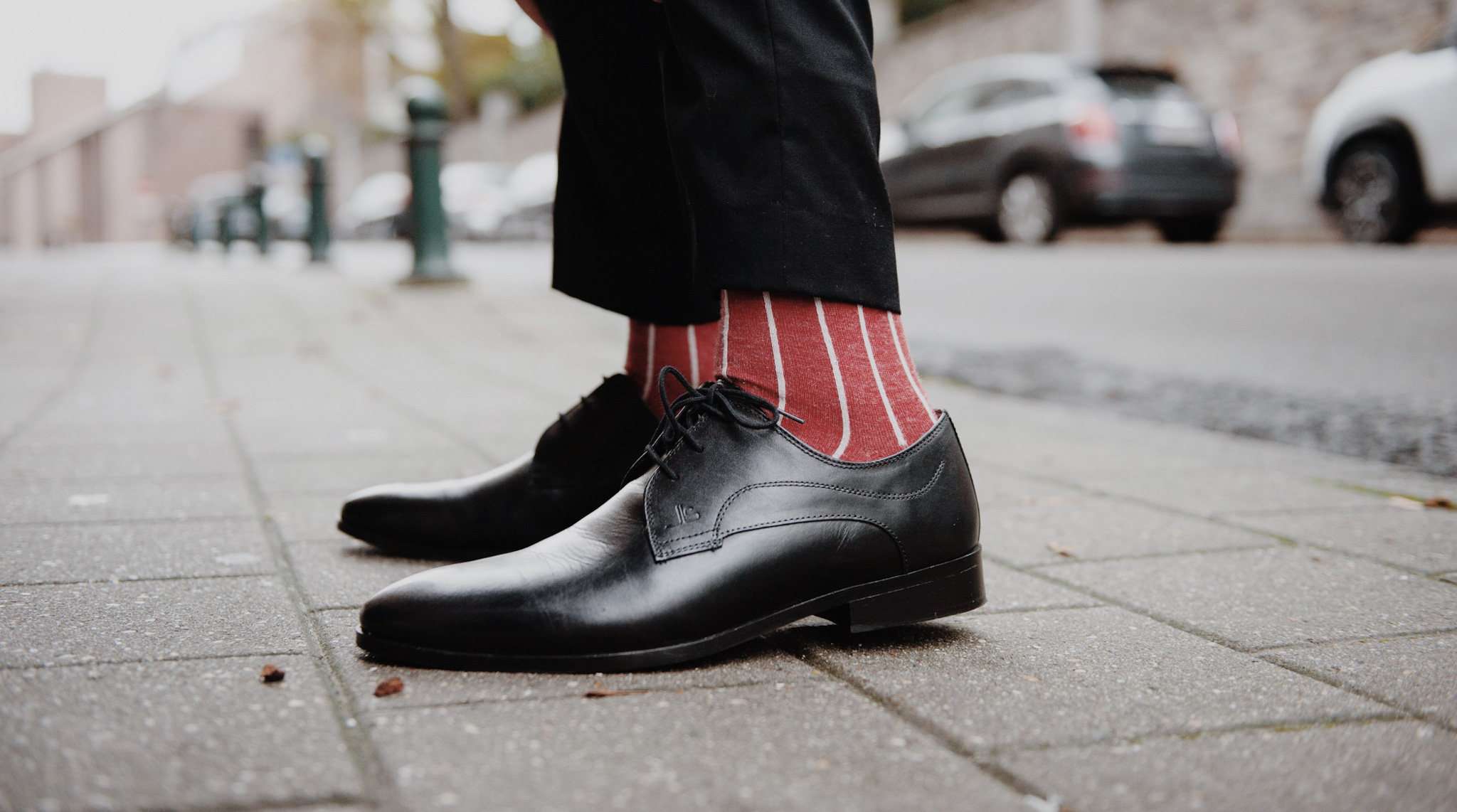 BellePaga offers you all the advantages of Alpaca wool through different socks and all types of designs to please all tastes!
From the short socks for more comfort in your sneakers to the high socks for the coldest among us, or those who prefer comfort above all. Alpaca socks for men will be able to accompany you throughout the year, in any circumstances. All this while always bringing
quality
,
comfort
and
warmth
to your feet.
Different patterns will accompany your outfits. Whether for men or women, our alpaca socks are available in different colors; blue, white, red, black, and different types of gray. But also different patterns like; small or big polka dots or even thicker or thinner stripes.
To be able to bring you all these variations while remaining in comfort, BellePaga studied the different possible wools and which one will be the most suitable for your needs. They are produced with Baby Alpaca wool which is not the wool of baby Alpacas as many people think but rather a part of the Alpaca coat which is known to be
the softest.
Thanks to this miraculous wool, we are sure to offer you a soft wool, which does
not sting
and almost does not pill. 
Our alpaca socks for men will bring you all the benefits of wool, leaving its drawbacks aside while remaining very elegant. Your alpaca socks for men will be able to accompany you throughout the year and
in all circumstances.
Keep your feet warm and dry                                  
Another remarkable property of our alpaca socks for men is the
thermoregulatory property
. Our socks will let your feet breathe and easily wick away the moisture from your feet, which would normally accumulate throughout the day.
This is an advantage for our socks because this property will decrease the perspiration of your feet, which will help to reduce potential odors, often related to foot moisture.
Unlike sheep's wool, which retains water throughout the day, causing your feet to feel suffocated, alpaca wool wicks it away much more easily. Thanks to this, our alpaca socks for men will keep your feet
comfortable and dry,
even when it rains!
Dry, sweat-free feet, but also warm feet that don't have to worry about moisture. Alpaca wool is very soft and light but it can also be very warm thanks to its thermoregulatory properties. This is why our alpaca socks for men are so attractive in any situation.
In addition to using alpaca wool for our socks, they also contain
Bamboo fiber
. Bamboo fiber is known for its absorbency, but also for its natural protection against bacteria making our alpaca socks for men even more
beneficial to the health of your feet.
Unfortunately, many people get cold feet in the winter and it's really hard to find the perfect winter socks. Socks made of cotton or synthetic materials provide little warmth and do not wick moisture away from your feet. Fortunately, alpaca wool is known to be
7 times warmer than sheep's wool
and would therefore be a good winter option for the coldest among us.
Despite its thermoregulatory properties, alpaca wool remains very thin and is therefore not too bulky in your shoes during winter. So you won't have to buy winter shoes one size larger to make sure your socks fit.
The fact that this wonderful wool adapts to the temperature will allow you to keep your feet warm in the winter, while avoiding them to sweat in the summer and thus avoiding unpleasant odors. Our alpaca socks for men will accompany you throughout the year, but also
throughout the seasons.
Alpaca socks, the solution to your problems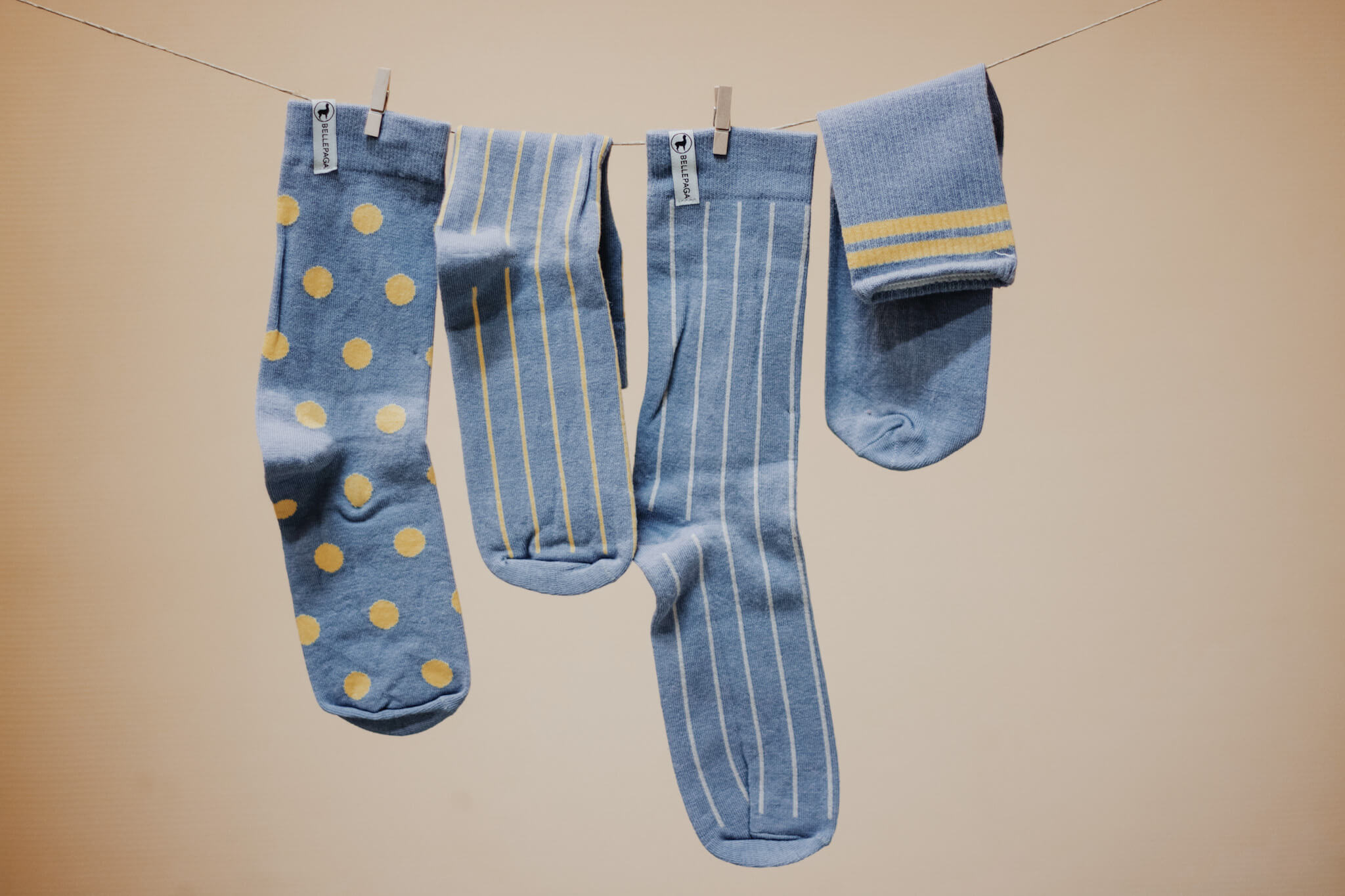 The quality of our alpaca socks for men exists through the production process. Made by local producers in Peru, who are paid a fair value for their work, they bring us
a unique know-how
. Our wool socks are knitted and then checked by hand to provide a perfect finish and avoid any visible seams.
Indeed, Alpaca wool has been woven for hundreds of years in South America. Mainly worn by royalty, it was more valuable than gold. This is why Peruvian artisans mainly use methods that have been used for many years and that have been passed down from
generation to generation.
In order to avoid visible seams and to make our alpaca socks for men even more comfortable, our socks are hand-knit, a technique that allows us to bring even more comfort to your feet. The technique used to reknit our socks is a rare and exceptional technique that testifies to the traditional knowledge
passed down from generation to generation to our local producers.
Alpaca wool is known to be extremely resistant. It is
4 times more resistant than sheep's wool to be exact.
Thanks to this, our socks have a much longer lifespan than conventional socks and can be subjected to harsher tests than conventional socks such as hiking or skiing. It is also important to remember that this is a wool that does not pilling, which means that your socks will keep their splendor throughout the time and will allow you to keep your socks much longer.
Unfortunately, today's sock industry is very unresponsive to the needs of society and it has only gotten worse in recent years. But fortunately your alpaca socks for men will
solve many of these problems,
whether it's problems with perspiration, warmth, or even durability. And our socks will adapt perfectly to the needs of its future wearer.
Baby Alpaca's wool will bring you the answers to your questions and needs in terms of socks.
Bellepaga tip: Care for alpaca socks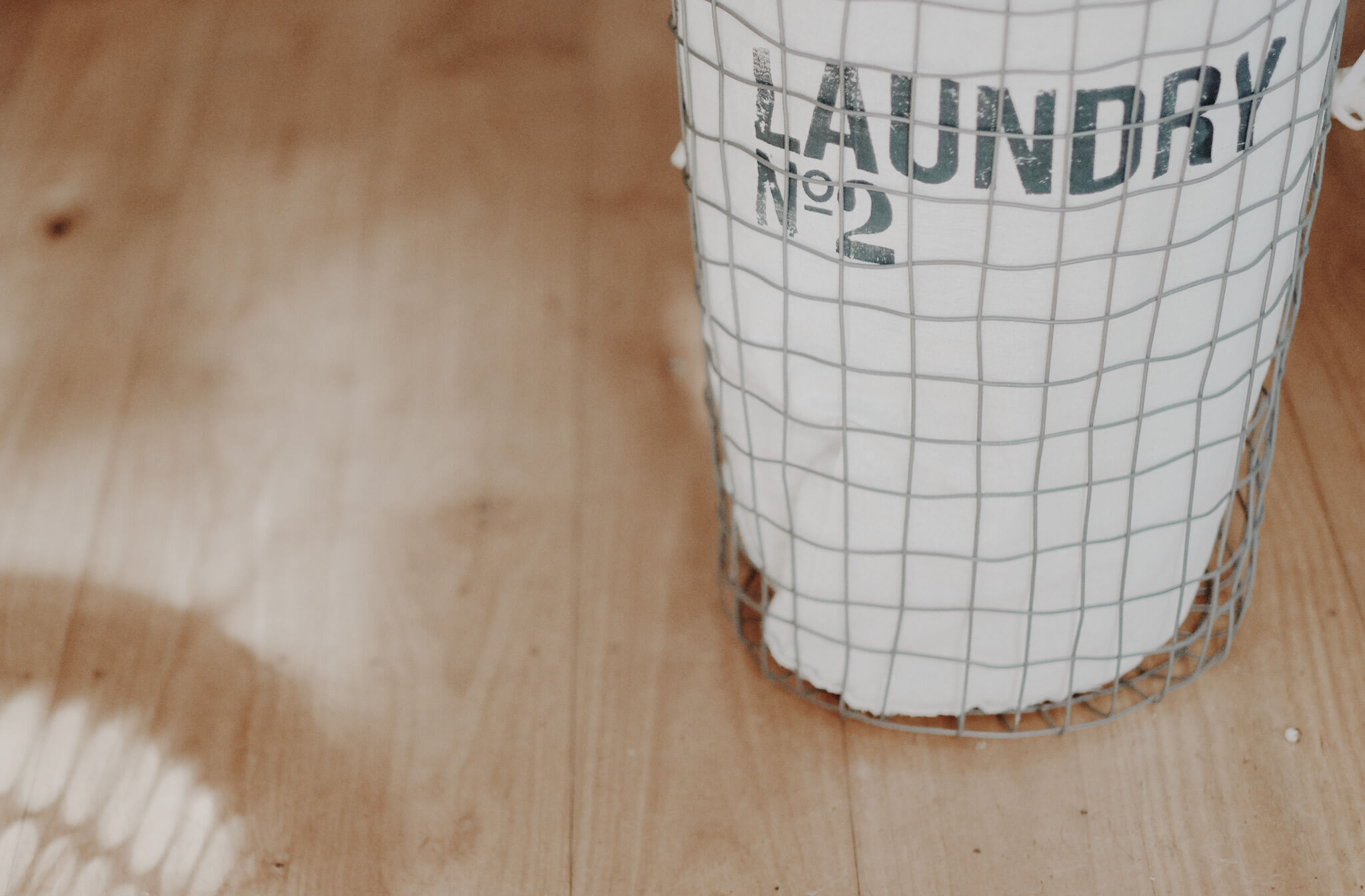 Our socks have as ultimate goal to bring
comfort
and
softness
to your daily life. Comfort also means easy care and machine washing, which makes our lives so much
easier
.
The alpaca wool, which is known to be much more
resistant
than traditional wool such as sheep's wool for example. Thanks to this quality, the alpaca line manages to have a much longer life than the classic wool, which allows you to keep your clothes and therefore also your alpaca socks for men much longer in time.
Alpaca wool does not pilling and therefore you avoid having to wash your alpaca socks for men by hand. A machine wash at
30°C on a wool program or on a gentle program
with the rest of your clothes will be sufficient and will never endanger your socks.
In addition to this, the dyes used to dye the wool of our alpacas are not chemical, but come from the animal itself or from mineral pigments and therefore also natural. These pigments are more resistant than chemical dyes, in addition to being more
environmentally friendly
. Thus, they will keep their brightness and splendor over time, without the colors fading.
Say goodbye to foot problems and try
our Alpaca Socks for Men
 and
Women
 without further delay!

Contact us for any additional information, we will be happy to answer your questions!