Socks for women

Whether you are looking to buy them for yourself or to buy them for a nice present for a birthday, Christmas, Mother's Day or any other occasion, our socks for women are a must-have in your collection.
Our socks for women are made out of a very unique and rare material which is the alpaca fiber. We will later on see what is alpaca fiber.


The alpaca fiber
Before describing the alpaca fiber. It is important to describe the alpaca. An alpaca is an animal from the family of the camelids. It is a cousin of the llama, but unlike many beliefs, they are very different animals. The alpaca is smaller and has pointier ears. An alpaca is known for its very soft and warm fur whereas the llama has a less soft coat and is more known for transportation usage. The alpaca is also a very kind animal. It is quite shy and does not make a lot of noise. That makes him a very therapeutical animal to be around. More and more places offer activities around alpacas, such as walk, yoga sessions or sessions with people in need such as people in retirement houses or people with autism. We have created a platform that lists alpaca farms in Europe that offer different services such as visits, walks, accommodations and many more activities such as organization of events like hen parties and event marriages.

But what are the characteristics of alpaca fiber? Alpaca fiber has many characteristics that makes the fiber such a good quality and unique fiber. Alpaca fiber is a very warm fiber, seven times warmer than sheep's wool. It is also very soft and very comfortable; it is often compared to cashmere. It is thermoregulatory, because the alpaca has to go through temperature variations that can vary from around 40 degrees during the same day. To adapt to these temperature variations, the alpaca has developed a coat that can adapt itself to the temperature. Therefore, this allows your alpaca clothing to keep you warm when you are cold but also not to make you too hot. In fact, this allows you not to sweat.
Alpaca fiber is also hypoallergenic, it is suitable for even the most sensitive skins. To add to that, alpaca fiber is very durable. Unlike other fabrics, alpaca fiber does not pill, it is four times more resistant than sheep's wool. Finally, an alpaca is also a very ecological animal. He firstly does not pull the grass he eats but cuts it near the root which makes the grass grow back faster and it does not damage the ground. An alpaca also does not squash the ground unlike other animals, because it does not have hooves, it has claws.

There are two types of alpaca fiber, the classic alpaca fiber and the baby alpaca fiber. Baby alpaca is softer and rarer. It is obtained, unlike common beliefs, not from a small alpaca but from the first shearing of the animal. The fiber is then softer, warmer, silkier and makes more quality clothes.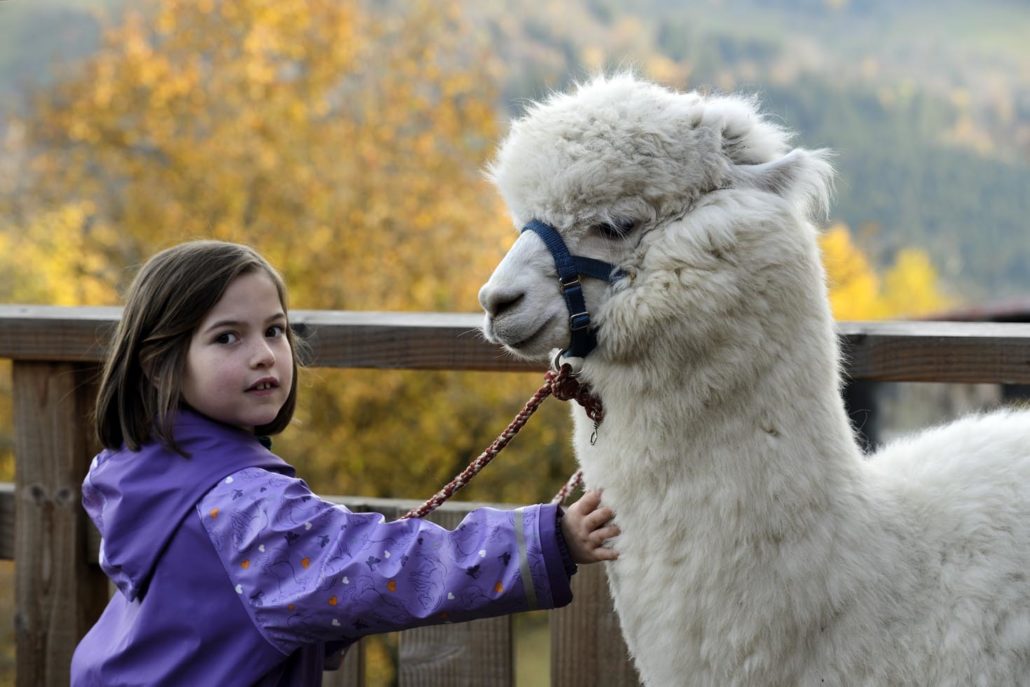 Bamboo socks
At BellePaga, our socks for women are made out of alpaca wool, which brings to these socks for women all the qualities that were mentioned before but there is also bamboo fiber in our socks for women. Bamboo fiber is a fiber that we have decided to add to our socks for women collection because it brings to our socks collection additional properties. Bamboo fiber is a fiber known for its anti-bacterial function. It makes the fabric more breathable, characteristic that is essential for socks. Therefore, the bamboo present in our socks for women allow the feet to breath, not to sweat and it prevents moisture. Bamboo fiber also prevents from unwanted odors.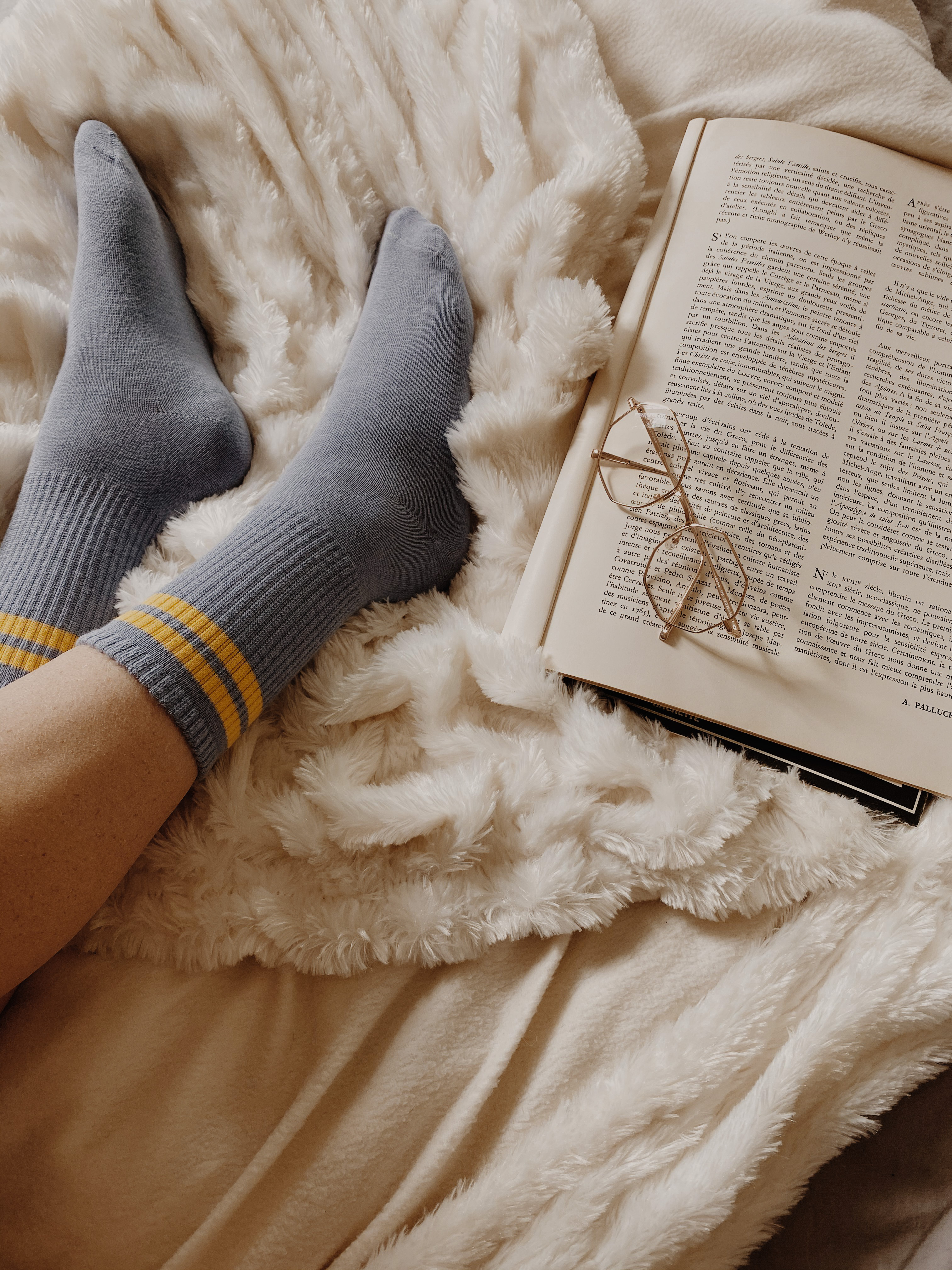 Socks online
At BellePaga, we offer multiple choices of socks for women. We offer a wide range of models, from ankle socks, classic size, mid-calf length, and even to the knee socks, you will definitely find the sock that suits you!
We also have a wide variety of sizes, going from a 12 junior to an adult size 5 (in a UK measuring size).
Finally, we also offer multiple colors and patterns. BellePaga has both colorful and plain/simple socks for women. We offer stripped socks, dotted socks, checked socks, socks with little alpacas on them, classical style socks and many more… You can find in our collection grey, black and white socks but also more "out there" colors such as pink, yellow, blue, red, beige and also pastel colors.
Because of all these models, colors, lengths and sizes, we are certain that you will find the perfect pair of socks for women.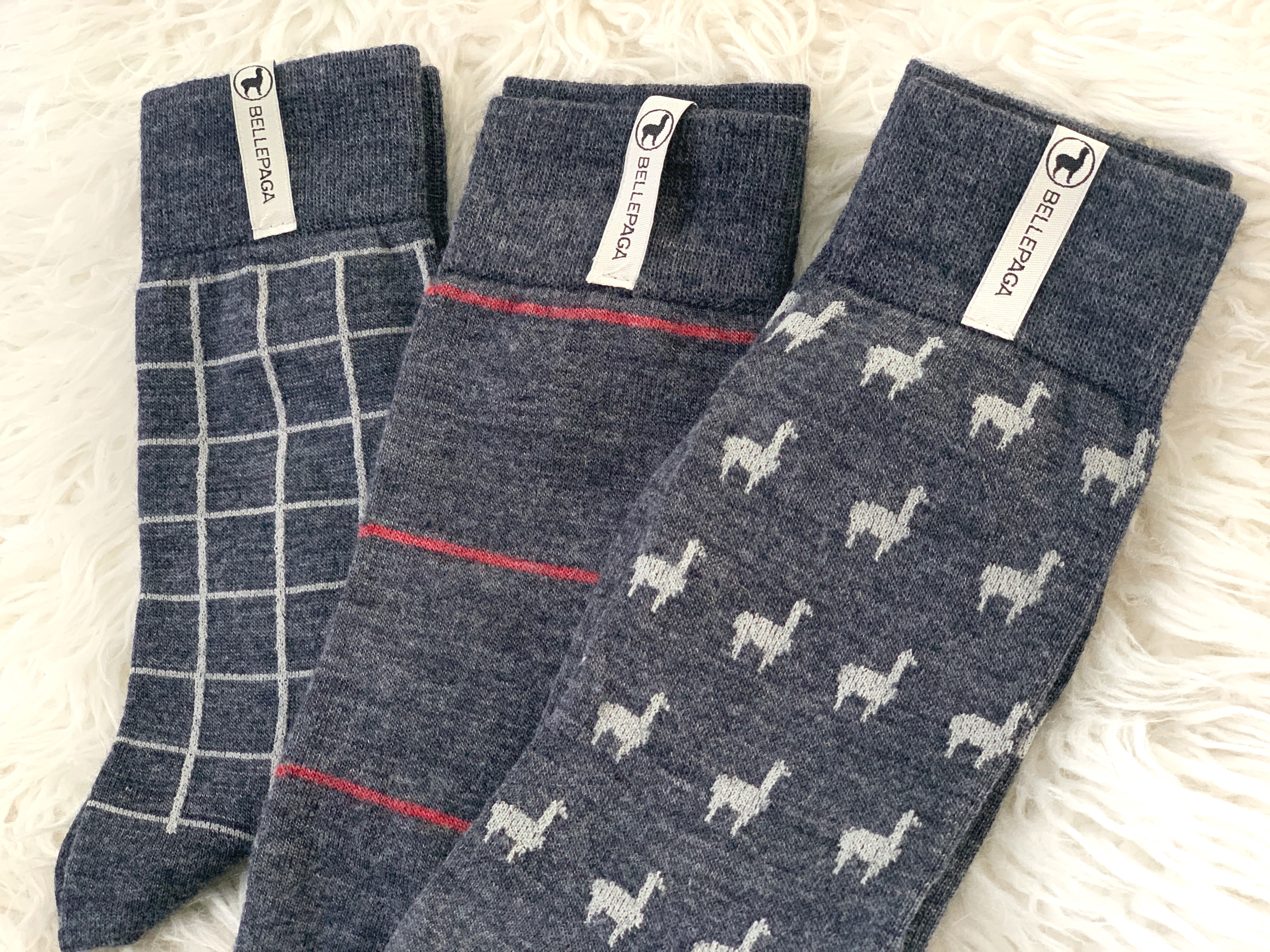 How to wear your socks for women?
As mentioned earlier, your socks for women can fit every style and every esthetic. We offer so many styles and colors that it will be easy to find the perfect pair for you.
Our BellePaga socks can be worn for many occasions. From a night in the town, when you feel like going out or for a casual day or even during the night to stay cozy in your home, the possibilities are endless!
You can wear our socks for women paired with a pair of jeans, with a suit or even a nice skirt or dress.
You can also wear our socks for women with a pair of boots, work shoes or a pair of sneakers.
It all depends on the look you want to go for and on your esthetic.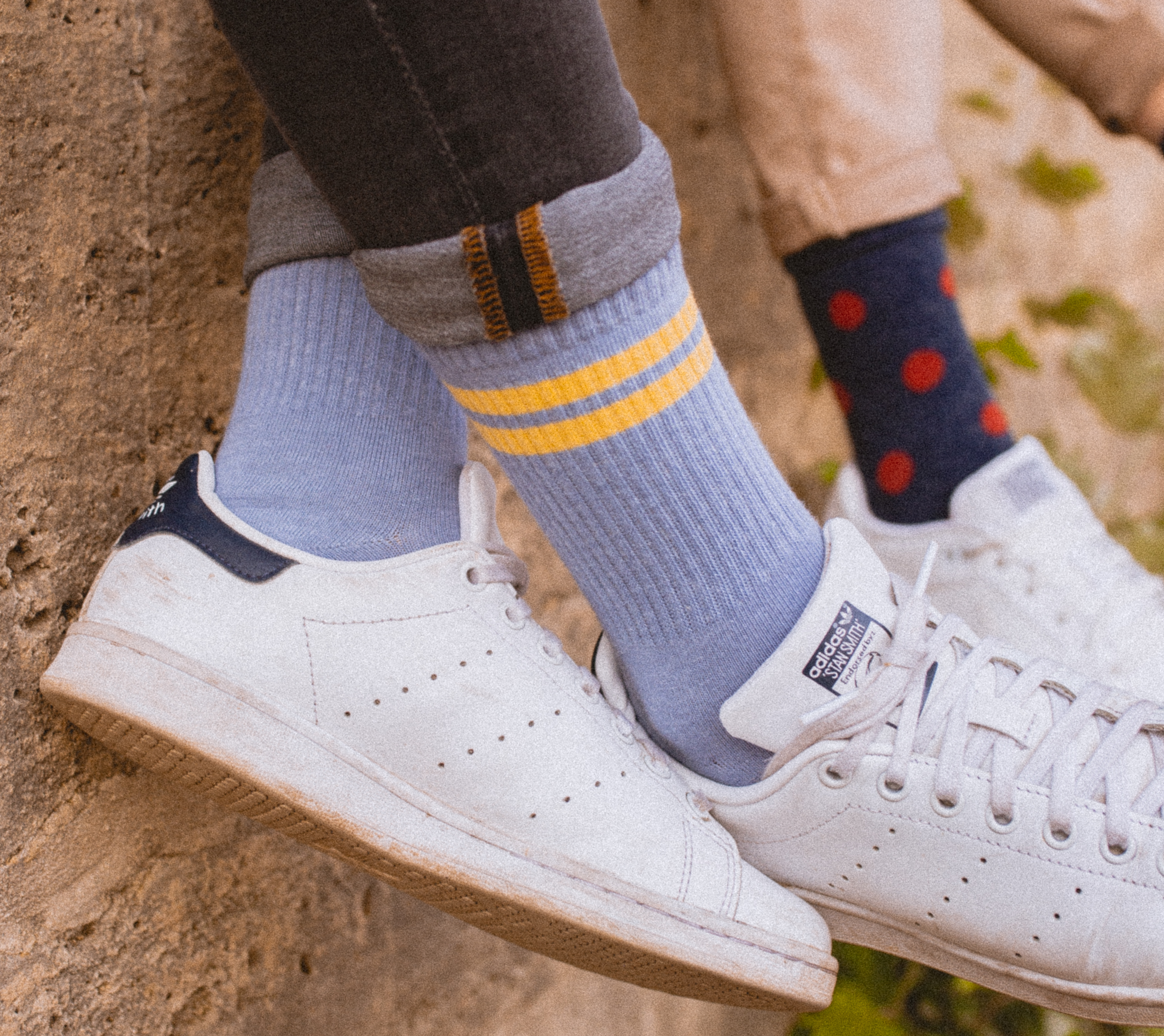 How to take care of your socks for women?
Now that we have mentioned what is an alpaca, what is alpaca fiber and what are our BellePaga socks for women and how to wear them, how should you take care of them?
In general, alpaca items can be kept during several years if taken good care of them.
Firstly, you can ventilate our items outside to refresh and deodorize them.
If you want to wash your items, we do not recommend the washing machine, or if you choose to use one, we recommend to use a dry cleaning or a wool program at 30 degrees maximum.
We recommend you to wash your alpaca items by hand with a mild shampoo and no fabric softener.
For socks for women, you can choose to wash then through the machine at 30 degrees but upside down.
Then for the drying, we do not recommend the dryer as it will shrink the fabrics. We recommend you to use firstly a towel to absorb all the excess water then air dry the items flat on a surface, otherwise, it will stretch the fabric and the items will be deformed.
If you decide to iron your items, we recommend you place a fabric between the iron and the item you want to iron in order to protect it from the heat.
If you wanted to keep your items even longer, we suggest you use the BellePaga wool shampoo and spray to keep your items clear and fresh. You can also prevent moths from eating your products with BellePaga's lavender bags. Finally, you can find additional and more in-depth information on the BellePaga website.

BellePaga socks
BellePaga is a young Belgium brand created in 2016 by two friends, one that grew up in Bolivia and one that is a big fan of digital marketing. BellePaga offers a wide range of products in a simple and classic style that will match all aesthetics and that is intemporal and can therefore be kept for years. BellePaga offers quality products made out of alpaca wool.
The brand offers jumpers, cardigans, hats, gloves, plaids, quilts, soft toys in the shape of an alpaca, ponchos, cushions, scarves and BellePaga's leading item: socks for women and men.
All our items are available for men and women in a wide range of sizes, colors and designs to please and fit everyone.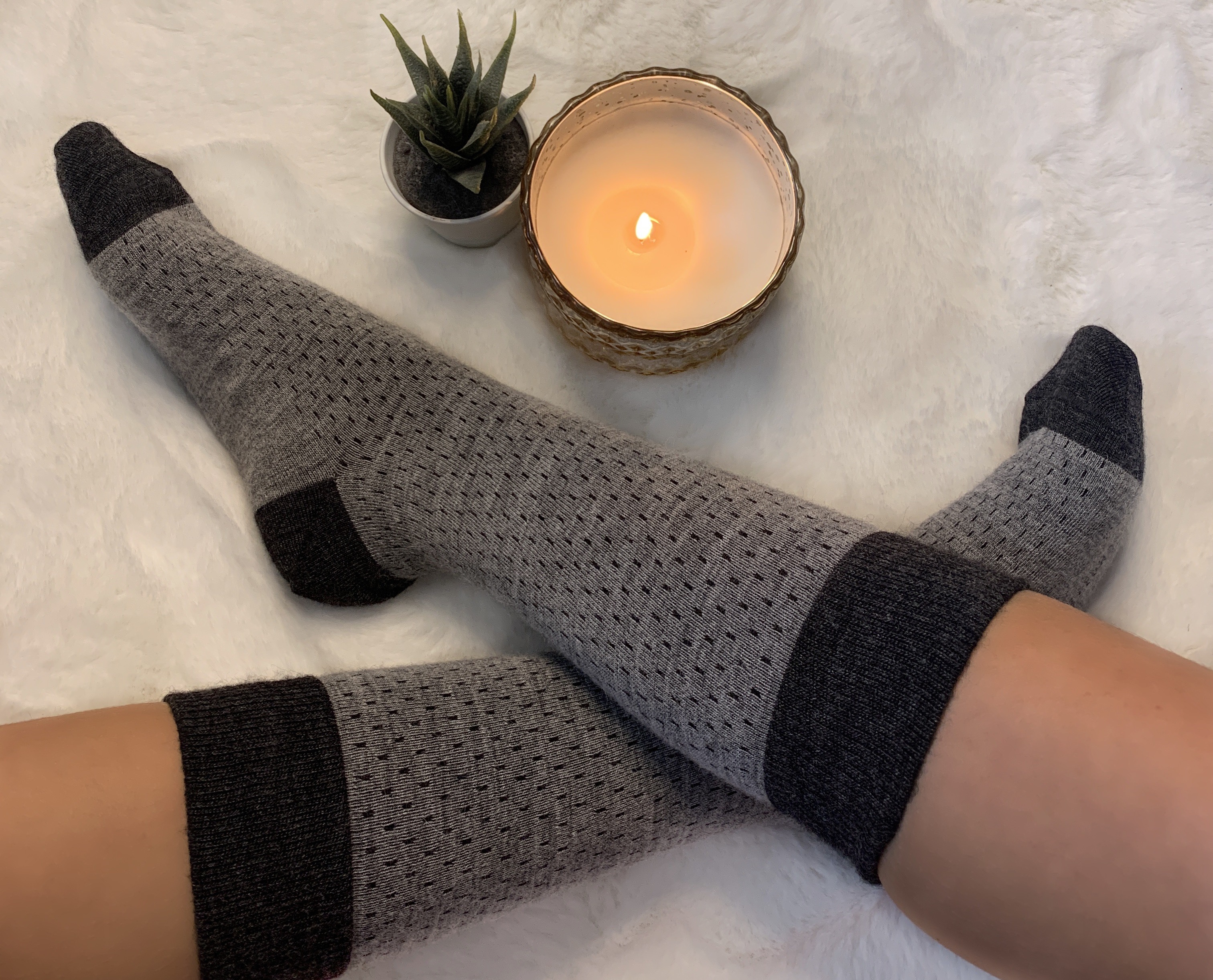 Conclusion
To conclude, our alpaca socks for women collection has a wide range of socks made out of baby alpaca wool and bamboo fiber. There are a lot of colors, designs and sizes available that will fit everyone. No matter your style, we are convinced you will find the perfect BellePaga pair of socks that will fit your aesthetic.

Do not hesitate to have a look at our website and look at our collection of items made out of alpaca wool.