Our BellePaga socks


The idea for BellePaga socks was born out of a concern for cold feet, perspiration and poor quality socks that cut off circulation or easily get holes. Their main mission is to solve these recurring problems.

So what fibres could put an end to them? We have therefore done our research and selected the best materials for you, in order to offer you quality, durable and virtuous socks.


Which materials for a better result?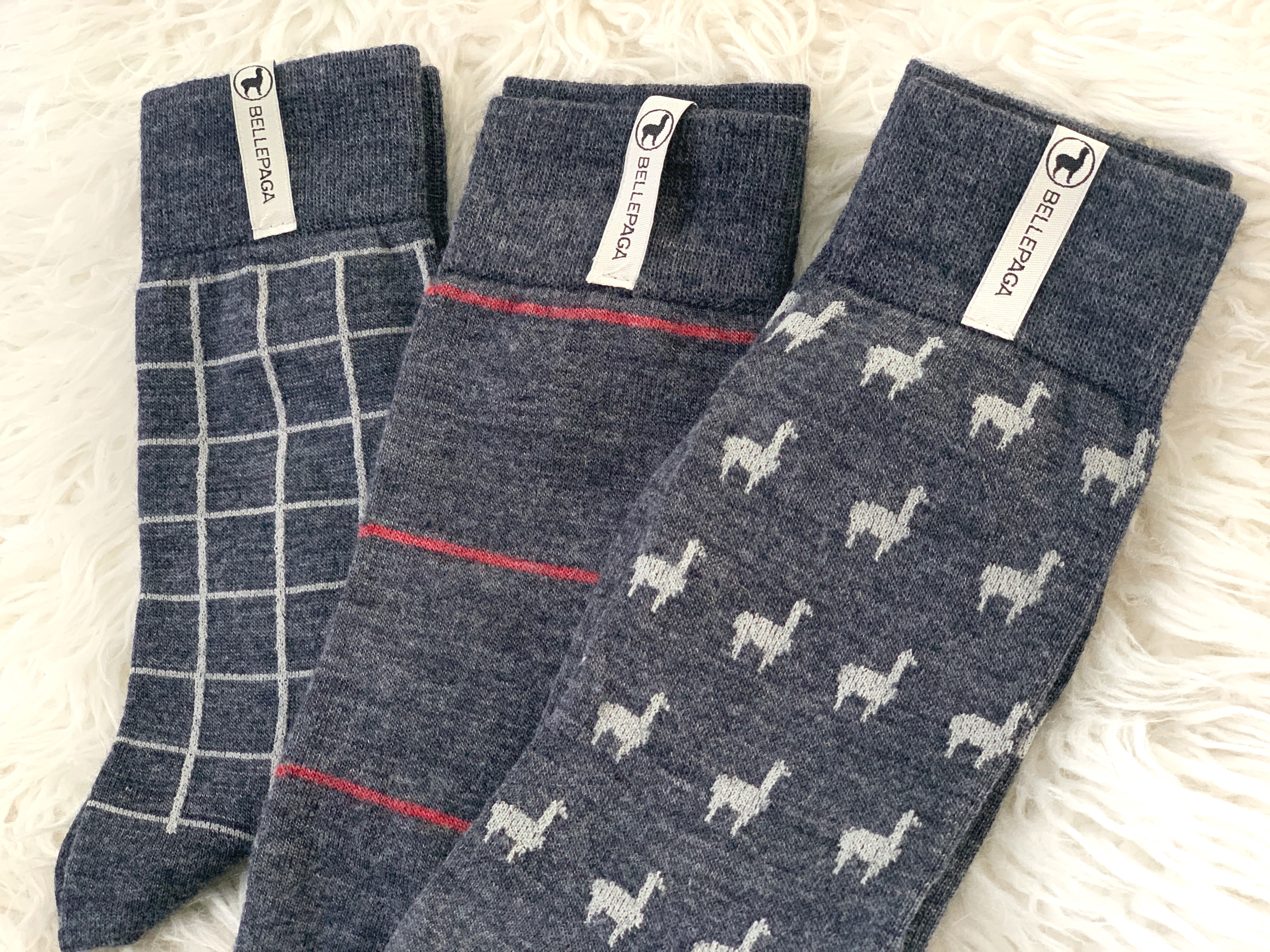 One of the most interesting fibres in our BellePaga socks is
baby alpaca fibre
. This fibre is very fine, yet 7 times warmer than sheep's wool and 4 times more resistant. Its
softness
allows you to wear it next to your skin, without scratching, and its
hypoallergenic
properties make it accessible to everyone, even the most sensitive. Indeed, alpaca wool is the only wool that does not contain lanolin, a fatty substance known to cause allergic reactions such as redness, itching and irritation.

Moreover, baby alpaca fibre is a breathable and thermoregulating fibre. This prevents moisture build-up in your socks, which is linked to bad odours, and keeps your feet warm in winter and at the right temperature in summer.

With your comfort in mind, BellePaga has opted for socks with no visible seams thanks to a reknitting process that allows for more precise finishing. This means that your feet will swim comfortably in a cloud of softness, while at the same time combining practical properties. The fineness of the fibre also allows for better blood circulation.

Finally, baby alpaca is environmentally friendly. Indeed, it comes from the alpaca, an animal with a very small ecological footprint that requires few resources to live, emits very little gas and whose waste is used as a natural fertiliser. Our BellePaga socks are not chemically processed and their colours come either from the many natural shades of alpaca wool or from mineral shades.

Bamboo fibre, or "plant cashmere" because of its softness, is also a fibre that is used in our socks and has many advantages.

Firstly, it is known to be antibacterial. This means that bacteria do not survive as long on this textile fibre, and therefore it naturally eliminates bad odours, thanks in particular to the chlorophyll present in it.

Secondly, it is one of the most permeable and moisture absorbing fibres. It is breathable and allows you to keep your feet dry even in summer, while providing the necessary warmth you need in winter.

Finally, bamboo fibre is also environmentally friendly. The plant grows and spreads quickly, so no fertilisers or other chemicals are needed to grow it and no large amounts of water are required.

The baby alpaca and bamboo fibres used in BellePaga socks combine their virtues to provide you with quality socks and all the benefits you need for optimum comfort.


From Peru to your home, in a Fairtrade approach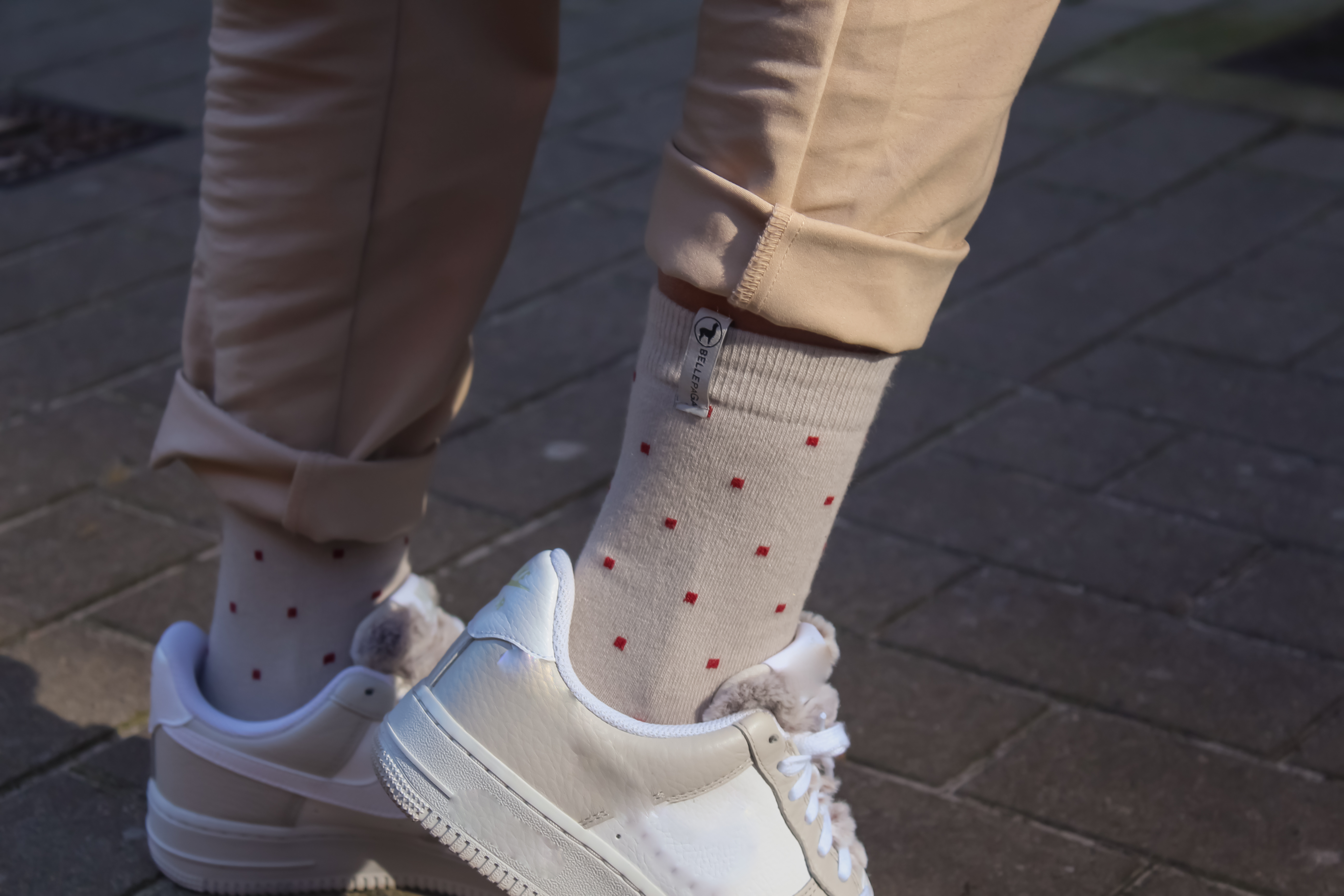 BellePaga socks are created in Brussels, in the form of a sketch, with the help of our stylist, in order to determine its components, colours and patterns. They are then sent to our partner craftsmen with whom we maintain a relationship where
transparency, dialogue and respect
are the key words.
It all starts with the shearing of the alpacas. They live in freedom in their natural habitat, the Andes Mountains, and are shorn once a year, in spring, so as not to affect their survival in summer and winter, when temperatures are more extreme.
This wool is then taken to our Peruvian craftsmen, who will manufacture these exceptional socks with traditional know-how. Indeed, each sock is finished by hand, for a perfect finish. The socks finally take their final shape, and then it's time for them to be shipped to Belgium and back to you.
So you can enjoy the benefits of baby alpaca and bamboo fibre with our socks, and your feet will thank you!
Our BellePaga socks
come in a
variety of sizes, patterns and colours
to suit everyone.
Add a touch of
elegance and finesse
to your outfits while mixing softness, comfort and warmth.