Cap scarf


With cold winters as we can experience them, hats and scarves are essential to get through the winter in good conditions. Indeed, these two accessories are pairs. You can decide to match your scarf with your beanie or conversely your beanie with your scarf. Or you can even decide to make a pair. But also for a total winter look with a pair of warm matching gloves. This winter cover up with these two timeless accessories and you won't be afraid to face the cold. We offer you items such as hats and scarves made of Alpaca wool. Moreover, our BellePaga products are of very high quality and made of Baby Alpaca fibre, which is the softest wool. You won't be able to resist it once you touch it. Don't wait any longer to visit our website to find beautiful hats and scarves that you can also match thanks to our wide range of products for both scarves and hats. The elasticity of our hats adapts to all head and face shapes. Soft and warm, it will be your best ally for the winter period.
Hat scarf 2 in 1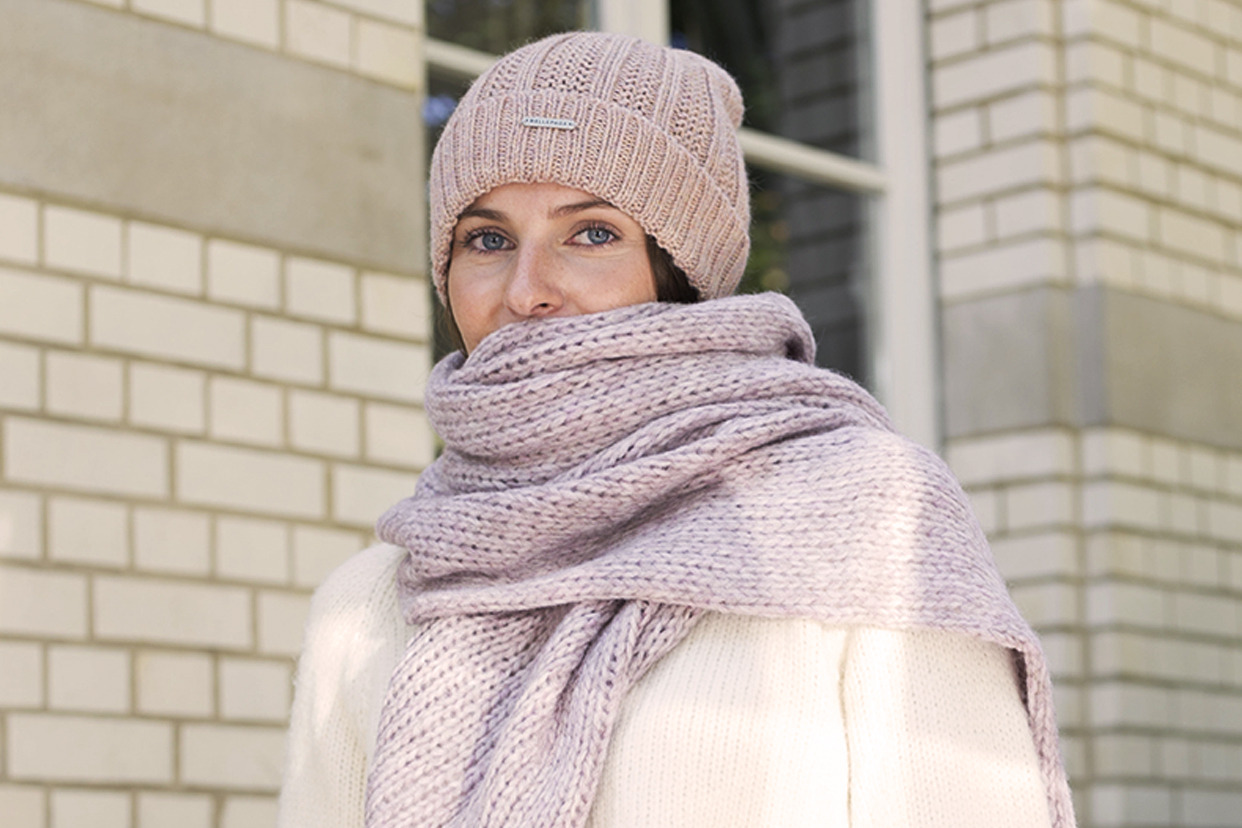 The 2 in 1 scarf caps are a real time saver! Indeed, you can wear a cap and a sling 2 in 1, we have often seen that for babies to keep them warm you can buy a cap included with a sling and then just put it on your baby's head. It's a time saver, but also saves money because often you can't find the wrap or the hat so you have to buy them separately. To lose the two in one, you have to want it. This kind of baby accessory has been all the rage for a long time and is still very common in countries where it is colder. This concept of a 2-in-1 sling also exists for women. It's true that women like to be stylish and matchy-matchy when it comes to accessories, so the idea of a 2-in-1 hat and scarf isn't a bad idea, however, as far as being stylish is concerned, it's a bit forgettable with this kind of accessory. But when it comes to being warm, there's no need to worry about that. BellePaga is committed to creating items that are both warm and fashionable. Our products are made for women who like to look good and feel warm. Thanks to the Alpaca fibre we have succeeded in bringing warmth because Alpaca fibre is 7 times warmer than sheep's wool. It is soft and comfortable and makes you feel happy when you wear it. In harsh winters these are the two accessories you need to face the harsh winters and the changes in weather throughout the year.


Hat scarf for men

For men who are tired of being cold in winter, at
BellePaga
we have a collection of hats and scarves made from Alpaca fibre. Alpaca fibre is one of the softest and warmest fibres for your clothes. Indeed, it adapts very well to the climatic conditions. Because the animal that is the Alpaca, to develop layers, this one is often led to strong variations of temperature in the mountains of the Andes Cordillera in South America, this is why it developed a very resistant coat. So when you wear Alpaca you can withstand any temperature variation, whether it is very cold or hot. Wool adapts to your body. There are two types of alpacas, suris and huacayas. The diameter of their fibres varies between
12 and 32 microns
and is officially classified in 22 natural colours. This is why this fibre has a very low ecological footprint. At BellePaga our scarves and hats for men are of the highest quality. Our products are made of Baby Alpaca. Baby Alpaca is the finest natural fibre obtained from the shearing of adult animals. This fibre is
natura
l and ideal for your hats and scarves to bring you warmth, comfort and softness.
Knitted scarf hat

  
When you make a gift with your own hands, it often feels even better than if you had bought it directly. You can decide to knit scarves or hats and give them to your children, parents, grandchildren, etc. It is a gift that is always a pleasure. Many videos and explanatory sheets are available to help you make a beautiful knitted scarf or hat. All you need is a little bit of material and patience because you don't learn to knit on the first try, unless you are very observant and in one video you know how to knit like a pro. Materials are essential when knitting, so make sure you have good needles and balls of wool. At BellePaga we offer you in our home and decoration section different balls of wool and not just any wool but Alpaca wool. If you want to make a nice gift and on top of that original, this is the ball of wool you need! Alpaca wool is not yet well known, that's why we want to make it known to a large number of people because it is known for its many virtues. It is warm, soft, comfortable, cocooning and this fibre is eco-responsible. By adopting this wool you will discover its many virtues through our balls of wool. Our balls of wool are accessible to all, they are 100% natural Baby Alpaca and are by far the favourites of those who are used to knitting as well as those who have had the opportunity to test this wool. Our balls of wool are certified 100% Baby Alpaca. Their yardage is 50g which is equivalent to 113 meters. For this you need a needle of at least 3.5 mm 4 is ideal.


BellePaga
    

BellePaga is the Belgian brand that offers you trendy articles worked by stylists and who follow the current trends to develop our collection of articles and all this made of Baby Alpaca fibre, the Baby Alpaca fibre from Peru which is the softest and most prestigious wool of the adult animal. We offer you trendy clothes and accessories such as scarves and hats that you can match to your taste. These items will give you a feeling of comfort and softness like you have never experienced before. Baby Alpaca wool offers the best comfort and maximum comfort for harsh winters. This wool is known for its main virtues such as softness, warmth, the finest and most luxurious wool. This wool is very resistant to give an example, it is 4 times more resistant and 7 times warmer than those of the sheep. It is a hypoallergenic fibre that lets you breathe and has thermoregulatory properties that do not make you sweat.

Moreover, Alpaca fibre does not require chemical treatment, bleaching or dyeing, nor does it contain lanolin. Our quality is unquestionable. We work with producers and breeders of Alpaca, we appreciate their know-how, for the confection of our various products. All alpacas live in freedom and in their natural habitat, in South America in the mountain range. Our scarves are elegant and perfect to enhance your winter looks. You can find different patterns ranging from houndstooth to classic check patterns. They are woven with Peruvian know-how.

Our scarves are perfect for people with very sensitive skin as they are hypoallergenic. So no need to worry about that. Our beautiful hats are classy and warm and fit perfectly to the shape of your head and keep you warm. With our hats you'll look good and for you gentlemen, you'll have a trendy look, while being well dressed.

Our hats are made of 100% Baby Alpaca wool and are very warm and trendy. You can wear it on the street when it's cold but you can also decide to take it with you for a ski trip or a hike. It will keep you as warm as any other hat thanks to the Baby Alpaca wool.

We invite you to discover all our scarves and hats, whose main composition is Baby Alpaca wool, these accessories will bring you everything you need to spend the winter in the best conditions.

Don't hesitate to follow us on our social networks, we like to share our universe and we do it quite well thanks to our social networks like Facebook, Instagram, Pinterest and now TikTok the new trend among the "young".