Alpaca visit




You dream of a moment of relaxation, an unusual activity to do with friends or family, a moment or a night of happiness with your lover(s). We have found the right idea for you. If you love nature, fresh air and animals, a visit to an alpaca farm is for you! You will be able to discover this intriguing and exceptional animal through different farms! We will give you some ideas for alpacas to accompany you. Such as walks with an alpaca, visits to farms or farmsteads or the idea of sleeping on a breeder's site, surrounded by alpacas. These are the kind of moments that can be done in summer and winter and that remain engraved in our memories for all ages. Whether it is for a trip with friends, family moments, to entertain your child or to spend a day with your partner. If you want to get away from it all and experience a new adventure, this is the activity for you! You'll only want to go back !


Difference between alpaca and llama 


But in reality what is the difference between an alpaca and a llama? Indeed, many people confuse the alpaca with the llama. But in fact, the alpaca and the llama are cousins! Despite their similarity, they have some differences. First of all, llamas and alpacas are domestic animals. Secondly, the llama is twice as big as the alpaca, which is smaller. We also notice a difference between them, at the level of the ears, those of the llama are curved to have an idea they are in the shape of a "banana", contrary to those of the alpaca who has straight and pointed ears. On the other hand, the alpaca is used to produce fibre for clothing, whereas the llama is rather used to carry loads such as alpaca fibre, for example. They are very intelligent animals who can easily understand orders. Alpacas are the bushier of the two. You can recognise it immediately because it looks like a cuddly toy. It is known for its wool, because it produces a lot of wool of consistent quality. Shearing takes place from November to April. If you would like to find out how the alpacas are sheared, we advise you to visit them during these periods. You will be able to see the breeders taking care of them and you can even try to do it yourself, it is a very satisfying and fun activity. The alpaca, unlike the llama, does not spit. And no he doesn't spit on human beings, he gives little kisses. Isn't that cute? On the other hand, the alpaca can be made to spit on his fellow creatures to communicate. For example, the female spits on the male to indicate that she does not wish to be mated. These animals are very sociable and enjoy contact with humans, so don't wait any longer to discover them during a visit, because when you do, you won't be able to do without them.


Alpaca breeding



If you want to visit alpacas and learn more about them, we invite you to spend some time with them in their company on farms and/or herds. There are alpacas everywhere. Moreover, on our website you can easily find an interactive platform with the different farms near you. The visits start with the meeting of the animals, you will discover the different groups of alpacas, as well as the distinction between males, females, young and small alpacas. The breeders will explain the alpaca's way of life and you will be able to ask them your various questions about them. You will also have the opportunity to stroke them and appreciate the softness of their wool. You will be able to give them special attention by feeding them and take the opportunity to take some nice pictures. You will also be able to understand the path of the animal's fibre to a piece of clothing. From shearing to fleece harvesting, sorting and transformation.
Don't wait any longer to visit them



Enjoy a walk with an alpaca



To discover the world of Alpacas, there is nothing better than a walk with them! It is you who will manage your animal and take it with you. During the walk, you will enjoy a magnificent setting, this is the kind of moment that transports you and makes you travel, as if you were at more than 4000 metres in the Andes Cordillera in South America, accompanied by your little alpaca. During your walk you can plan to stop in hidden places to enjoy a picnic in the company of your charming animal. This experience will give you the opportunity to discover this mysterious animal. You can also request guided tours with a breeder who will teach you more about alpacas, if you wish. Moreover, this activity can be done as a couple or with family or friends. It's the perfect gift idea to please your partner, believe me no one else will have given him a surprise like this, either of you will be touched by your imagination and your discovery of this kind of unusual activity, but one that you won't forget!


Atypical family activity

A visit to an alpaca farm can be very
beneficial and enriching
as a family, it allows you to get out of your usual surroundings and be in a calm and peaceful atmosphere. The alpaca plays on your morale, this animal is very expressive, it will make you spend an unforgettable moment. It is even said to have a beneficial effect on
autistic children
in the same way as the horse. Indeed, it is a very zen animal, it doesn't like sudden gestures and shouting, it needs a lot of calm and patience. The alpaca is a very soft animal to the touch but also by its way of life, its soft plush appearance will have a favourable effect on your child's well-being. For people suffering from autism, everything that happens through contact is very important, alpacas are used to human contact, this hairball really comes through tenderness, empathy and softness. But also thanks to the little kisses they give from time to time. The children will be able to spend a calm and peaceful moment in the company of these cute little creatures! This animal is also used in animal husbandry for
zootherapy
. It is an unconventional therapeutic method, the aim of which is to improve the physical or mental health of a person, using the animal as a mediator. The main aim of this therapy is to propose activities with the alpaca according to the person's feelings and needs. If you are stressed or anxious, a walk with an alpaca is a good solution to remedy your anxiety or stress. Walking and guiding the animal will help you reduce your discomfort.
At
BellePaga
we pay very special attention to these animals, we love and cherish them thanks to our
breeders in Bolivia and Peru
who take care of them. Our products are produced in specialized regions, by local producers that we see very often. Our brand has now been in existence for more than 4 years, it is two Belgian friends who have embarked on this adventure, one of them has lived in Bolivia. Together, they decided to launch their brand of natural clothing and accessories made of alpaca wool for women and men. And also to develop accessories for the home and decoration. Our brand strikes the perfect balance between comfort, warmth and elegance, with a modern and pure style, both natural and fashionable. Our brand stands for strong values, linked to environmental protection, fair trade, respect for animals and sustainable development. Indeed, you have been introduced to the physical and friendly aspect of the alpaca but this animal is also known for its many virtues. This animal produces a fine and silky wool. This fibre is extremely comfortable and offers an experience of softness and warmth that is second to none. At BellePaga, quality and respect come first. We work with specialized breeders and artisans in Peru and Bolivia for our products. All our items are hand made or finished to ensure quality. Respect for the animal is very important at BellePaga. We are a committed brand and we act ethically.
Go now to our
platform
to discover the different visit of alpaca closest to you to carry out this exceptional activity !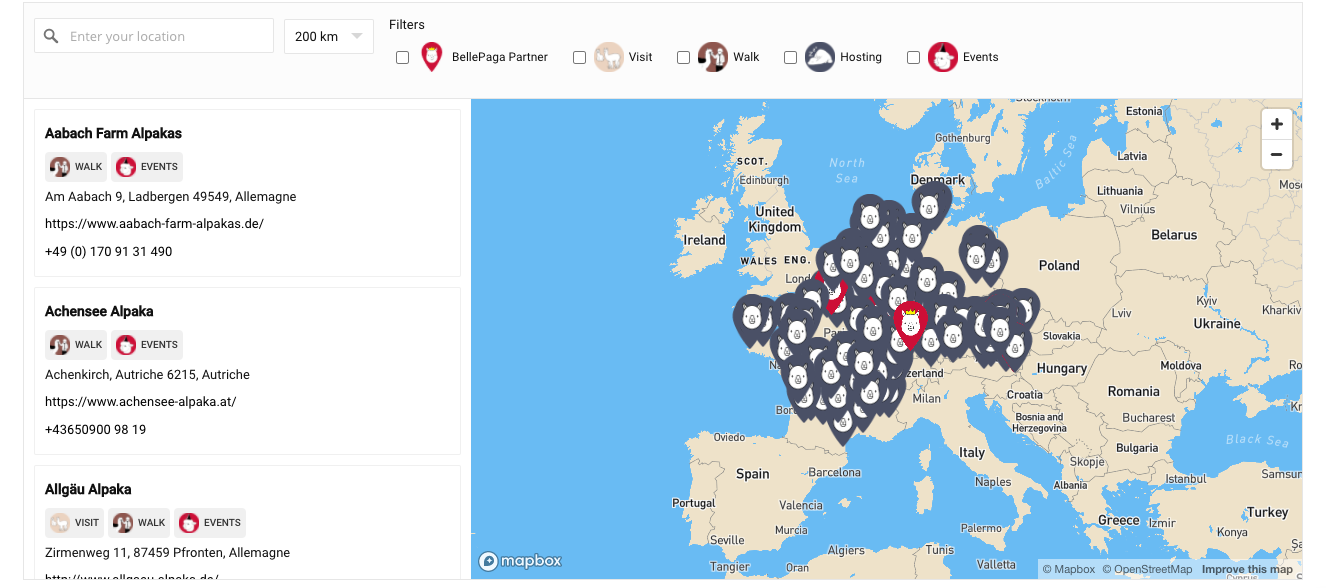 35
36
37
38
39
40
41
42
43
44
45