Alpaca socks



The alpaca is an animal living at more than 4000m altitude in the Andes Mountains in South America, that produces an exceptional fiber with many recognized natural virtues, ideal for socks.
BellePaga offers you its large collection of high-quality socks for women and men.

Quality

BellePaga alpaca wool socks are always made with high-quality materials. The manufacturing of each sock is finished and checked by hand for a perfect fit. 

Alpaca fiber is 4 times more resistant than sheep's wool, does not pill, and wears out very slowly. It is, therefore, the ideal fiber for textiles that are subjected to severe tests such as socks.
These socks will remain in perfect condition for many years.

Warmth

Alpaca wool is well known for its insulating power (7 times warmer than sheep's wool!) and thermoregulatory qualities.
These BellePaga alpaca wool socks, although thin and elegant looking, will always keep your feet cozy and warm.
Your feet will always be at the right temperature, dry, and without sweating thanks to the nature of alpaca wool.
Its thermoregulatory properties will keep your feet warm and dry in all circumstances, from September to June.
If you are a skier or hiker, these socks will also be ideal to wear under your usual thick socks, thanks to their finesse.

Comfort

These socks are specially designed to provide you with a unique feeling of comfort and softness. Alpaca wool is very soft and does not scratch unlike other wools. It is very comfortable to wear on the skin.
These alpaca wool socks are therefore soft, thin and elegant. Alpaca wool will allow you to keep your feet warm while offering finesse and elegance to your socks. Thanks to our wide range of colours, patterns, and lengths, they will perfectly match all of your clothes, and each type of shoes.
Additionally, BellePaga socks are hand reworked, so they have no seams for an optimal comfort.

Reduction of Perspiration and Odours

Socks made out of alpaca wool allow your feet to breathe very well and greatly reduce sweat and the odours caused by it.
Alpaca wool is a very thermoregulatory fiber.  In addition, we offer a collection that includes bamboo fiber, which is renowned for its absorbent properties and softness. No more excess moisture, especially from transpiration. Your feet breathe and are comfortable all day long. Bamboo is a fibre that also provides natural protection against bacteria and reduces odour formation.
Thanks to their thermoregulatory properties, your feet breathe better and sweat less. BellePaga socks are very good at wicking moisture away from the skin.

Seamless

The comfort of our socks is our priority. To ensure that it is optimal, each BellePaga alpaca sock is hand-sewn. This technique is rare and allows to be much more precise and fine finishing than a traditional machine would. This ensures that the seams won't be noticeable.
The difference in comfort is evident, especially after several hours of wearing them during the day.  They will provide you with exceptional comfort and you won't be able to go without them anymore!
Thanks to our wide range of colours, patterns, and lengths, they will perfectly match all of your clothes, and each of your shoes.
They are available in 3 lengths (short, mid-calf, and long), and in more than 10 elegant colours.

High Longevity & Easy Maintenance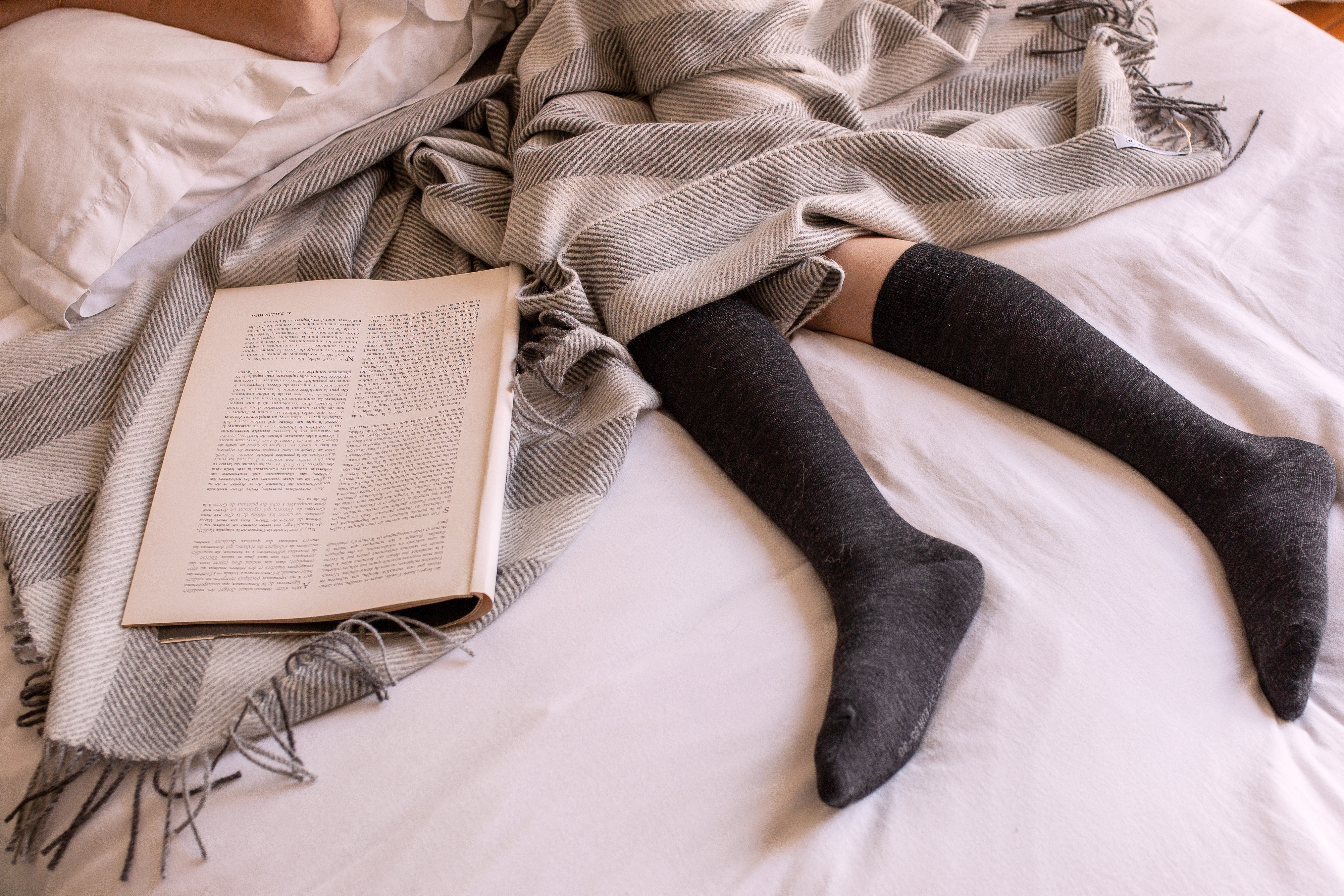 Thanks to the fantastic resistance of alpaca fiber (4 times more than sheep's wool), these socks are very resistant to wear and tear, and therefore have a long life span. You can keep them for years without any problem, and wash them easily in a machine with the wool program or at 30 degrees with the rest of your clothes. Moreover, alpaca wool does not pill when it is washed, unlike sheep's wool.
Finally, BellePaga uses natural shades derived directly from the animal's wool or mineral pigments, which are much more resistant than chemical shades and a lot more environmentally friendly. The natural colours will not change with each wash.