sock man winter
When your feet get cold, a pair of socks seems to be the perfect accessory to keep your toes warm and comfortable this winter. However, most of the time it is still difficult to find the right socks that meet our expectations. Poor quality, too short or too high, many problems are encountered with socks. In this article, we will help you to choose the perfect socks for a pleasant winter.
Cold feet problem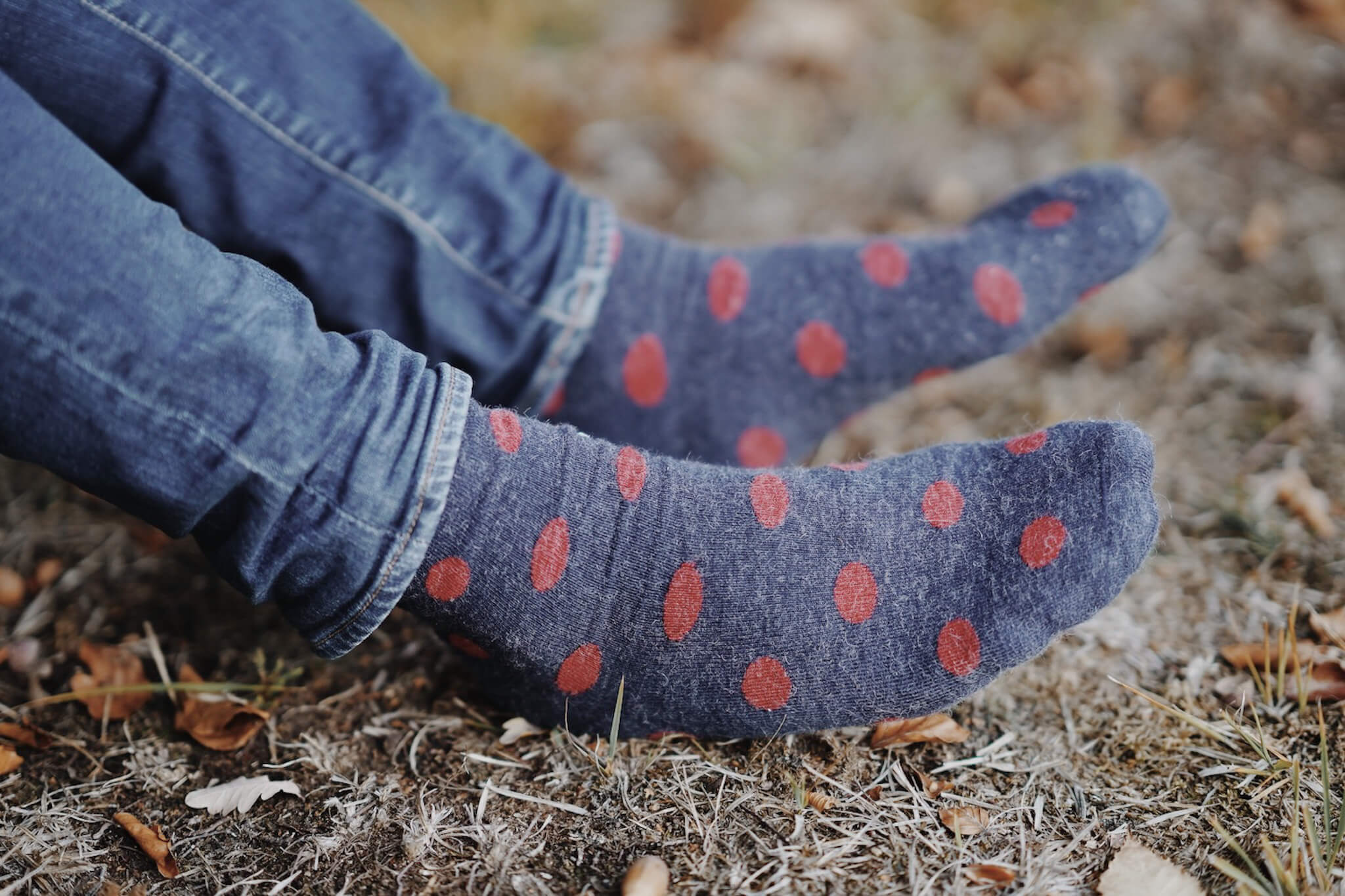 Summer is now over and gives way to the winter seasons. When winter sets in, our first reflexes will naturally be to wrap ourselves up in our warm clothes to face the cold. Each person is unique and reacts differently to winter temperatures. Some people can get through the winter simply by wearing a coat, while others layer on top of each other. Constantly having cold feet is a problem. This is manifested by the feeling of having numb, tingling and constantly cold feet. Poor blood circulation is the main cause of this problem. There is nothing more unpleasant than having cold toes in those shoes all day long. Laying your pairs of socks on top of each other can be a good solution to combat the cold, but due to the thickness you will not be comfortable in your shoes. The use of suitable creams, foot baths, or heated insoles will simply ease the pain and help you cope with the cold. Luckily, BellePaga helps you to equip yourself so that the cold remains a bad memory for your feet. In fact, BellePaga offers a wide range of socks that will delight your feet and solve all your cold feet problems.
Alpaca wool socks    
With BellePaga socks you will have no more worries. They are the answer to all your questions and will be the solution to your problems, gentlemen. BellePaga socks for men are made from natural wool from alpaca. It stands out from other wools not only because of its rarity, but also because of its exceptional benefits. Indeed, it is renowned for its insulating properties. Thanks to its thermo-regulating mechanism, alpaca wool adapts to your body heat so that you always stay at the right temperature. With these socks, you won't have to worry about sweating and your feet will stay dry. Alpaca wool is 7 times warmer than sheep's wool, but that doesn't prevent it from remaining a light and soft material. This fibre is 4 times more resistant than sheep's, which means that the material does not pilling up and will remain in your cupboards for a long time even after several washes. High, mid-calf or short there is something for everyone. Blue, red, grey, classic, striped or polka-dot, there are indeed an infinite number of patterns and colours. What's more, for maximum comfort, these socks are very thin, so you won't have any more worries about your trainers, shoes or slippers. These marvellous socks are a perfect match for all types of styles. Whether you are in suits, jeans or trousers, they will be the finishing touch to your outfit. You'll find what you're looking for at BellePaga. BellePaga socks will give you warmth, softness and lightness.
Socks are trendy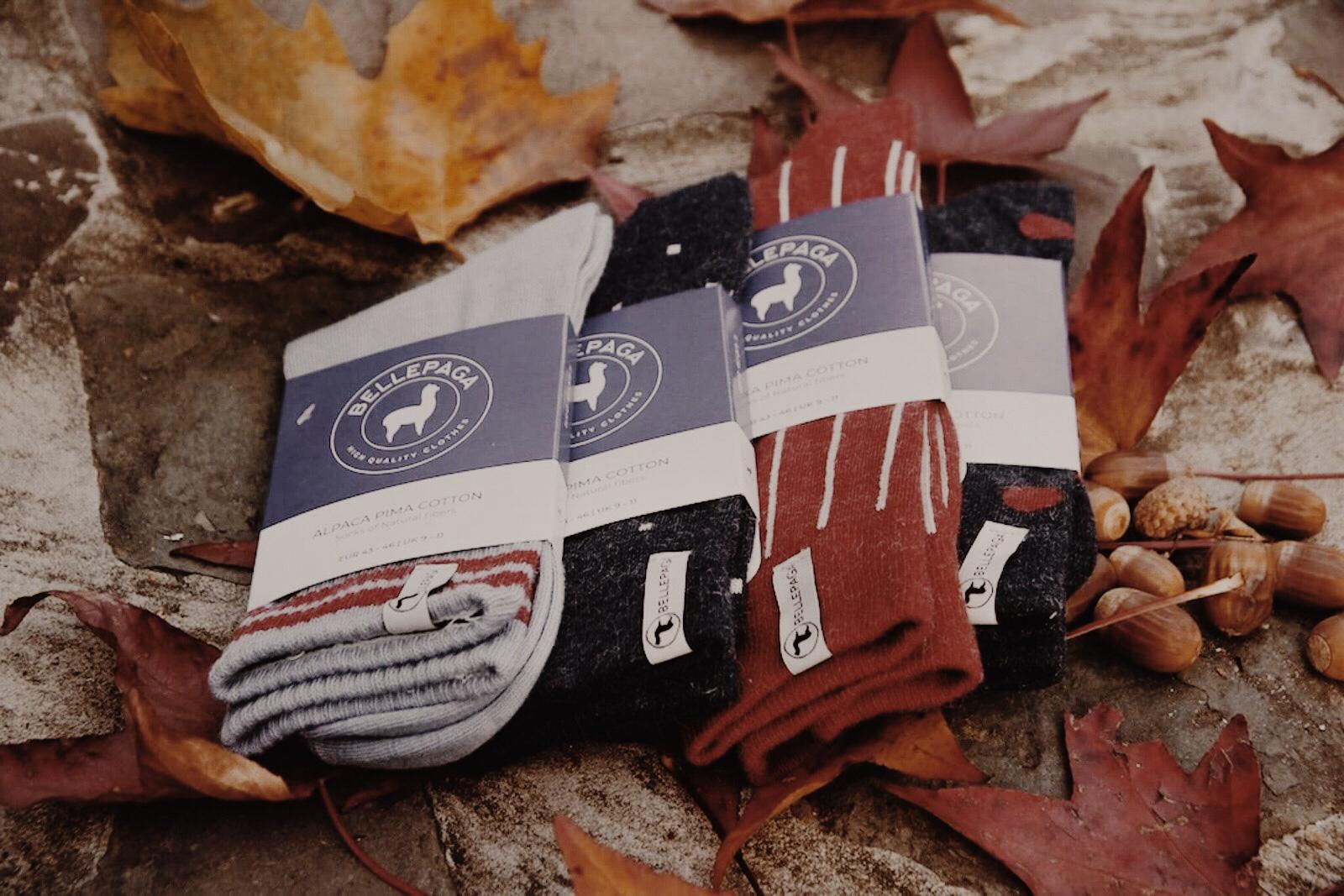 Socks are often neglected and are often forgotten and not put to good use. Due to their unique role as protection against the cold, socks are camouflaged underneath our clothes and go unnoticed. However, in recent years, socks have become the star accessory to have in your wardrobe. They are the finishing touch that will make your look look fun again. If you opt for a minimalist and sober look, a touch of colour on your socks will add some pep to your style. Gone are the days of sober colours such as black, white or grey, now opt for patterned socks with stripes, polka dots or checks. Dare to wear colour, play with the different materials in your look and take responsibility for your beautiful socks. BellePaga offers you a selection of socks of all types. With the colours and patterns offered by BellePaga, you can be sure you'll never go wrong with your look. These socks are handmade by Peruvian artisans with incredible craftsmanship. They are beautifully finished and have no seams. These quality socks won't fall off, you will feel comfortable all day long.

So don't hesitate any longer and come and discover our wonderful socks for trendy men at BellePaga!